Frankie Avalon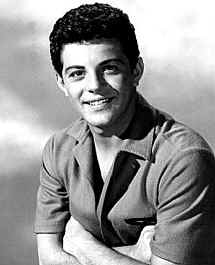 Frankie Avalon was the first and most successful of the teen idols from Philadelphia.


Francis Thomas Avallone was born September 18, 1940. He was encouraged to perform from the time he was a child, beginning from when he was tutored on the trumpet by his father. Avalon first performed at the CR Club, an extension of Palumbo's restaurant. The CR Club was a private affair where the owner encouraged parents to bring their children to entertain.
He soon progressed to local talent shows. On local Philadelphia television he won first places with his trumpet playing in amateur contests.
In 1952, Avalon was an uninvited performer at a party held for Al Martino, another of Philadelphia's Italian singers. Martino had just signed with Capitol Records and had invited the neighborhood to share in his success. Avalon's trumpet playing caught the eye of a talent scout who arranged for him to appear on Jackie Gleason's CBS-TV show. This led to other appearances on national television. In March, 1954 an instrumental "Trumpet Sorrento" was released on the X label
By the time he was 12, he had joined Rocco and the Saints, a dance band that feature another boy from the CR Club, drummer Robert Ridarelli, soon to call himself Bobby Rydell. The combo played parish bazaars, shows at the Sons of Italy Hall, weekend sock hops.in school gyms, and weekend dances at teen clubs. Rocco and the Saints were regulars at Somers Point, a vacation resort in the summer.
| | |
| --- | --- |
| Peter De Angelis | Robert Marucci |
In 1957, with the rise of "American Bandstand" a number of Philadelphians entered the music business. Among those were Peter De Angelis and Robert Marucci, two Italian songwriters and music publishers. With a loan from Marucci's father they founded Chancellor Records. DeAngelis knew of Avalon as his aunt had been his babysitter, and DeAngelis often invited Frankie over to his home where they rehearsed, Frankie on the trumpet and DeAngelis on the saxophone.
Avalon asked for an audition, was signed with Marucci and DeAngelis becoming his managers. Avalon's first songs, backed by the Jivin' With the Saints combo were "Cupid" and "Teacher's Pet" were aimed at teenagers, but hardly sold outside of Philadelphia. Marucci and DeAngelis got Avalon and the Saints a cameo in the rock and roll film "jamboree" where they played "Teacher's Pet." That September, Avalon spoke with Dick Clark about his career.
Marucci and DeAngelis wanted Avalon to sing "De De Dinah," a song they had written, on his next single. A piece of teen fluff, Avalon pinched his nose while singing the song to show how he felt about it. This nasal version was the one Chancellor released in December, 1957. A week before it's national release Avalon made a second performance and sang De De Dinah on "American Bandstand." De De Dinah soon sold a million copies.
The next three singles "You Excite Me," "Gingerbread," and "I'll Wait For You" were aimed at teenage girls. The results varied as "Gingerbread sold nearly a million copies while "You Excite Me" sold half as many
Avalon's early singles were arranged by DeAnglis and with studio musicians. The sound he created was bouncy, with a happy message, but was not intended to have a lasting impact.
Marcucci and DeAngelis next had Avalon record "Venus" a song written by Ed

Marshall. This song was completely different from the songs he had recorded in the past. The combo was replaced by an orchestra, female vocals, bells and chimes over a soft cha-lypso beat. Gone were the guitars and saxophones. Avalon sang with a full voice, giving up the nasal sound, but the audience it was aimed at remained the same.
"Venus" was Avalon's biggest hit selling more then a million copies in the spring of 1959. Three more million sellers in a row, "Bobby Sox To Stockings," "Just Ask Your Heart," and "Why" followed.
Over a two year period, Avalon had seven songs in the Top Ten. Beginning in 1960 his career began to decline. He recorded a number of songs that couldn't make it into the top twenty and by 1961 his records couldn't even get into the top sixty.
As his recording career slowed he began appearing in movies. In 1960, he co-starred with Alan Ladd in "Guns of the Timberland" and appeared in John Wayne's Alamo. Appearing in a number of other films Avalon didn't have a starring role until 1963's "Drums of Africa."

Annette Funicello
In the early sixties there was a nationwide surfing craze and Hollywood did a number of movies on the subject. Avalon, along with Annette Funicello, were leading stars in these movies. Starting in 1963 he appeared in "Beach Party," "Muscle Beach," Beach Blanket Bingo," etc..
Though having no major hits after 1960 or any charted singles after 1962, Avalon continued to release singles and albums on Chancellor through 1963. In 1964 he signed with United Artists and recorded a few singles and two albums. After United Artist he changed labels almost yearly.A disco version of "Venus" in 1976 was his last record to receive any attention. Avalon recorded his last single "You're the Miracle" on the Bobcat label in 1983.
In 1978 he had a cameo role in the musical "Grease" playing Teen Angel and singing "Beauty School Dropout." In 1980, The Idolmaker, a movie based on Avalon, Fabian and Marucci was released.
In the summer of 1985, Avalon began touring with Bobby Rydell and Fabian as "The Golden Boys of Bandstand." The fifty city tour was a huge success with Public Television "On Stage at Wolf Trap" airing on January, 1986 was built around the show as well as a retrospective of their careers.. This lead to a reunion with Annette in 1987's "Back to the Beach," a film parody of their earlier beach movies.
Avalon now lives in Los Angeles area. Reportedly investing in the musical "Grease" he is now a millionaire. Avalon has never stopped making personal appearances in nightclubs and concerts. Often turning to Dick Clark for help in his career, Clark always came through. In return, Avalon appeared in many of Clark's musical productions for television