Freddy Cannon

No one would claim that Freddy Cannon was one of the great early rock and roll singers. Yet he did his own small part to keep the rock and roll spirit burning in the late '50s and early '60s, a time at which it sometimes seemed in danger of being extinguished.


Freddy Cannon was born Frederick Picariello on December 4, 1940, in Revere, Massachusetts. He grew up in Lynn another North Boston suburb. The son of Fred Picariello who was a truck driver by day, but became Fred Carmen musician and orchestra leader by night.
Cannon attended Lynn Vocation High School and by the time he was sixteen he had taught himself how to play the guitar and formed a small combo - the Hurricanes. He also began using his father's stage name Fred Carmen. Drawing his inspiration from Little Richard, he began using whoos and a strained delivery. In 1956, Cannon played guitar on the G-Clef's session at Boston's Ace studio that produced the hit single "Ka-Ding-Dong."
Long before graduating from high school Cannon knew he wanted a musical career. So at an underage sixteen he joined the National Guard to stave off military service. Soon after he married and by the time he graduated was a father.
Like his father he was a delivery truck driver by day while the popularity of the Hurricanes spread locally. frequently playing record hops and high school dances it was at one of these that they noticed by Boston deejay Jack McDermott. who signed Cannon to a managerial contract. Impressed by his professionalism what really caught McDermott's attention was a song "Tallahassee Lassie" that he was shouting at the top of his lungs.
In late 1958, McDermott make a tape demo which he took to Bo Crewe and independent producer that wrote songs with Frank Slay, an aspiring bandleader. The two had a small, but respectable list of hit records mostly with Philadelphia based Swan and Parkway/Cameo Records. Upon receiving the tapes Crewe and Slay offered to produce a demo in return for two-thirds of the composing credits.
On November, 1958 Crewe and Slay booked a session for Cannon and the band at Boston's Ace Studio. Even with Slay on the piano the session didn't go well. Determining that Freddy's guitar playing wasn't good enough Kenny Paulson, who had formerly been with Dale Hawkins, was brought in to play lead. After fifty takes and unhappy with the results the producers and musicians called it quits. The sound on the demo was decided to be to crude for commercial release.
This was confirmed when every New York label they approached turn them down. A few months later Slay played it for a New Jersey deejay that thought it was great. They the offered it to Philadelphia based Swan Records that was partially owned by Dick Clark. Clark liked the song, but suggested the vocal bridge, the part that begins with the pounding bass drum that begins "She dances to the bop" be repeated. Clark's instinct's were right in seeing this as the songs true hook. Unwilling to try and re-record the song, they simply spliced a copy of the bridge on the end, and that's the way the record was released.
"Tallahassee Lassie" was first released in Boston where Cannon promoted it tirelessly. With the help of WMEX Arnie Ginsburg a Boston deejay, it began to get airplay Boston and Philadelphia. Soon it was being played regularly on American Bandstand. In April 1959, it was released nationally and credited to Freddy Cannon.
In the summer of 1959 when "Tallahassee Lassie," allegedly written by his mother, hit the Top Ten. Eighteen years old at the time and driving a truck, Cannon quit his job and started a musical career which spanned four decades. He became a regular on WHDH Bob Clayton's "Boston Ballroom", the local TV dance show.
"Tallahassee Lassie," the first of twenty-two songs by Cannon to appear on the Billboard charts, was a downright raw number with pounding piano, handclaps, and a raunchy guitar solo was his best single. The Little Richard-esque shouts of "Woo" that punctuated the song would become his most familiar vocal trademark, and in fact were recycled a little too often for comfort over the next few years. "Way Down Yonder in New Orleans" (1959) made number three, and Cannon recorded other ancient pop tunes like "Chattanooga Shoe Shine Boy" and "Muskrat Ramble" with much more middling success.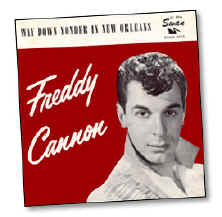 Cannon recorded for Swan Records, a Philadelphia-based label. Owned by Bob Crewe and Frank Slay, they supplied the in-house material, that was usually
formulaic. However, his biggest hit, "Palisades Park" was not written by Crewe/Slay, but by future "Gong Show" host Chuck Barris.
Crewe and Slay had connections enough to get Cannon on Dick Clark's popular "American Bandstand" which had national exposure. He is probably most famous for his early appearances on Dick Clark's "American Bandstand". Cannon holds the record for the most appearances by a performer on "American Bandstand" (110 times).
After a short dry spell, Freddy scored big-time with the perennial summertime favorite Palisades Park" which went to #3 in 1962. That same year he fronted labelmates Danny and the Juniors on "Twistin' All Night Long," a record, which also featured Frankie Valli and the Four Seasons doing back-up vocals.
In 1963 he moved to Warner Brothers where he cut the million selling "Abigail Beecher" (the hip history teacher) which went to #16 by February 1964, before cutting "Action", from TV's Where The Action Is. The latter was cut with top L.A. session men Hal Blaine, Leon Russell, James Burton, Glen Campbell, and David

Gates -- a far cry from the simpler fare of his Swan days. In early 1966 Cannon recorded "The Dedication Song" which would be his last chart hit for fifteen years.
Cannon toured internationally during the mid-Sixties and remained a major performer overseas after his star had faded in America. In the Seventies he became a promotional man for Buddah Records, but returned to the charts in 1981 with "Lets Put the Fun Back in Rock 'n' Roll," backed by the Belmonts.
In recent years, Cannon has averaged 125-150 concerts annually across the world; including stops at Disneyland and Madison Square Garden. He also continues to work with Clark on the road many times each year when he hosts one of his Bandstand reunion concerts.
Freddy Cannon was a true believer, a rocker to the bone, who didn't let the lack of top-notch skills stand in the way of putting his heart into his vocals and his enthusiasm is infectious. Enjoying his biggest successes in the late 1950s to the mid 1960s Cannon is sometimes wrongly categorized as a teen idol, he was in fact too raw to fit comfortably into that mold (not to mention not quite good-looking enough). A listen to any of his finest records quickly dispels any preconceived notions of him being a pretty boy teen idol no talent.