Alan Freed

One of the most important popularizes of rock and roll during the '50s, Alan Freed was the first disc jockey and concert producer of rock and roll. Often credited with coining the term rock and roll in 1951, ostensibly to avoid the stigma attached to R&B and so called race music, Freed opened the door to white acceptance of black music, eschewing white cover versions in favor of the R&B originals.



Senior year at Salem (Ohio) High - 1939-1940


Freed family - 1956
R to L: father Charles, Alan, sister Jackie
Seated: mother Maude
Albert James Freed was born December 15, 1922 in Johnstown, Pennsylvania of a Welsh mother and Lithuanian born father. He was one of three sons of Maude and Charles Freed, a clothing store salesman.In 1933 when Freed was twelve his family moved to Salem, Ohio. He attended Salem High School during which time he formed a band known as the Sultans of Swing, in which he played trombone. His ambition was to on day to become a bandleader, but an ear infection ended that possibility. After he graduated from high school in 1940, he enrolled at Ohio State University where he studied engineering for a year. It was during this time that he developed an interest in radio
After the Japanese bombed Pearl Harbor, Freed joined the US Army where he was assigned to the Ski Patrol. It was at this time he developed a serious ear infection causing him to receive his discharge.He then enrolled at Ohio State University where he earned a master's degree. Returning to Salem he went work as a government inspector in military plants. It was here he met his first wife Betty Lou Bean. They were married in 1942.
While at his government job, Freed enrolled in a night broadcasting class in Youngstown, Ohio. After finishing he landed a jobs at number of small stations. His first at WKST (1942) in New Castle, Pennsylvania where he played classical music for $45 a week. Next was sportscasting at WKBN (1942) and WAKR (1945) where he became a local favorite, playing hot jazz and pop recordings. Both of these stations were in Akron, Ohio. In 1949 Freed landed a job and moved to WXEL-TV in Cleveland.
In 1950, Freed went to the management of WAKR requesting more money. When he didn't get it he quit went to another Akron station WADC. Except Freed still was under contract to WAKR. A law resulted that banned him from broadcasting within 75 miles of Akron for one year suit. He then left Akron for Cleveland.
It was at this time that Freed took his Request Review to WXEL-TV where the show bombed. However he stayed hosting a midday movie before he went to WJW where he did a classical radio show and late night movie on their television station.
One night he was asked to fill in for a sick colleague and instead of but didn't sick to the station's playlist the selection of records was suppose to play. Instead he played the rhythm and blues records of Chess, Modern, King and Atlantic Records. The next day he was fired. however, the station was bombarded with mail from listeners and Freed was rehired.

WAKR - 1949-1950
Courtesy John Cavello, National Television Archive


Leo Mintz





WXEL - 1950-1951
Courtesy John Cavello, National Television Archive
Leo Mintz who owned the Record Rendezvous a local record store saw an increasing number of white teenagers buying rhythm and blues records at his store. Based on these observations Mintz suggested to Freed he would sponsor his show if he would begin playing these records. On July 11, 1951, at 11 PM signed off on his classical program. Putting the needle down on Todd Rhodes's Blues For A Moondog calling himself "Moondog," Freed went on the air with his Moondog Rock and roll Party and became among the first to program rhythm and blues for a white teenage audience. Within eighteen months it was the number one radio show in Cleveland. Other small stations followed eventually forcing the larger stations to join in.
Due to the prejudices of the times Freed began calling the rhythm and blues records he played Rock "n" Roll. What is ironic that term Freed was using to make rhythm and blues more acceptable to a white audience, was slang for sex in the black community.
In 1951 a black vocal group The Dominoes recorded "Sixty Minute Man" which was a (#1 R&B and #17 pop) hit. The lyrics were highly suggestive and used rock and roll in the lyrics. Freed began using the term a month later and most likely was inspired by this song.

Moondog Coronation Ball - 3/21/52
Courtesy John Cavello, National Television Archive

Freed would name his show Moondog's Rock 'n' Roll Party. The shows success led to Freed's March 1952 Moondog Coronation Ball in Cleveland. Top black acts were booked for the show. Six thousand fans crashed gates in addition to the thousands already in 10,000 seat hall. Two thirds of the audience was white

WINS-1955
Courtesy John Cavello, National Television Archive
In 1954 with Morris Levy as his manager, Freed moved his show to WINS radio in NY. Within months the show was #1. Freed began staging revues at Brooklyn Paramount where he often could be found on stage gyrating. Freed appeared in a number of rock and roll movies such as Don't Knock The Rock, Rock Around The Clock, and Rock, Rock, Rock. It was no surprise that these movies broadened the acceptance of rock and roll. The real surprise was Alan Freed in the flesh. In his mid-thirties Freed looked at least ten years older. Klutzy with little stage presence Freed looked completely out of place. To many teens Freed looked like the ultimate adult.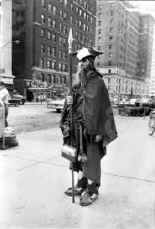 "He looked like Christ in Christ-like clothes"
Morris Levy
Upon Freed's move to New York, there was a controversy over his famous trademark, Moondog. It concerned a street musician by the name of Thomas Louis Hardin who had adopted the name . Hardin, a blind eccenrtic who dressed as a Viking, sold umbrellas from a stand at the corner of 54th Street and Sixth Avenue, had recorded Moondog Symphony, the howling song that Freed used in his show. Hardin claimed that he had used the nickname Moondog as early as 1947. A lawsuit ensued and the court ruled in Hardin's favor, barring Freed from using the title for his radio program Moondog House and playing the song. Thereafter he called his show Alan Freed's Rock 'n' Roll Party.
In 1957 ABC-TV gave Freed his own nationally-televised rock & roll show, but an episode on which Frankie Lymon danced with a white girl enraged thirteen ABC's Southern affiliates and the show was cancelled.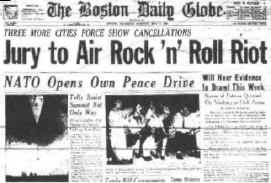 Freed's first real problems began when he put on a show at the Boston Arena (1958) that resulted in his being charged with incitement to riot. Though the charges were later dismissed, but WINS failed to renew Freed's contract. This incident forced him into into bankruptcy and would just be the beginning of Freed's legal problems.
Freed moved to WABC radio, and also hosted a locally televised dance show.

In 1959 the U.S. House Oversight Committee, at the urging of ASCAP, began to look into deejays who took gifts from record companies in return for playing their records on their shows. Though a number of deejays and program directors were caught in the scandal, the committee decide to focus on Freed. Freed's broadcasts alliances quickly deserted him. In 1959, WABC in New York asked him to sign a statement confirming that he had never accepted payola. Freed refused "on principle" to sign and was fired.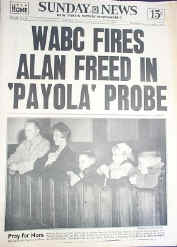 Within the industry there was widespread belief that Fred was set up- that the hearings were prompted by ASCAP , who represented the songwriters and publishers of pop music, much which Freed refused to play.
Unable to impose any formal punishment on Freed it wrote a bill that made giving or receiving of payola a federal crime, punishable by up to two years ion jail.
On Feb 8, 1960 a New York Grand Jury began looking into commercial information in the recording industry and on May 19, 1960 eight men were charged with receiving $116,580 in illegal gratuities. This probe would lead to Freed being charged with income tax evasion by the IRS.

(Left to right Mel Leeds, program director WINS, Peter Tripp, WMGM disc jockey
and Alan Freed being booked at a New York police station in May, 1960)
Freed was the only deejay subpoenaed by the Oversight Committee and refused to testify despite being given immunity. Trial began December, 1962 and ended with Freed pleading guilty to 29 counts of commercial bribery. Though he only received a $300 fine and 6 months suspended sentence his career would be over.
Forced to leave New York Freed work briefly at KDAY (owned by the same company that owned WINS) in 1960, in Los Angeles, but when management refused to let him promote live rock & roll shows Freed left the station and returned to Manhattan to emcee a live twist revue. When the twist craze cooled he hooked on as a disc jockey at WQAM (Miami, FL). Realizing that his dream of returning to New York radio was just that, Freed's drinking increased. The Miami job lasted only two months.
| | |
| --- | --- |
| | Marker at Lakeview Cemetery |
March 15, 1964 Freed was indicted by a federal grand jury for tax evasion. The IRS claimed that Freed owed $37,920 tax on unreported of $56,652 for the years 1957-59. Living in Palm Springs, California at the time, Freed was poor, unemployed and unemployable. Before he could answer the charges he entered a hospital suffering from uremia-a condition caused by the retention in the body poisons normally expelled in urine. Alan Freed died Jan 20, 1965 of cirrhosis, a penniless, broken man. He was 43.
Freed truly loved rock and roll, claimed to have never have played a record he didn't like and never forgot where the music came from. However, he was a flawed man who claimed songwriting credits that weren't his, paid performers on his tours very little and associated with questionable individuals.


Alan Freed was inducted in to The Rock and Roll Hall of Fame in 1986.
Alan Freed