Gene Pitney

One of the most interesting and difficult-to-categorize singers in '60s pop, Gene Pitney had a long run of hits distinguished by his pained, one-of-a-kind melodramatic wail. Pitney was a successful '60s artist scoring numerous hits.


He was born Gene Francis Allan Pitney in Hartford, Connecticut in 1941, but spent most of his youth in Rockville, Connecticut. Pitney studied piano, guitar, and drums. While at Rockville High School was performing with his group The Genials and had written and published some songs. By the time he had dropped out of the University of Connecticut he was performing with Ginny Arnell as the male half of Jamie and Jane, then as singer/songwriter under the name Billy Brian for Blaze Records and under his own name for Festival Records in 1961. Pitney broke into the music as a songwriter in his late teens, getting his first taste of success when Rick Nelson had a hit with "Hello Mary Lou" and "Rubber Ball" for Bobby Vee in 1961. In 1962, he wrote "He's a Rebel" for the Crystals and became friends with producer Phil Spector. He also wrote for Roy Orbison and Tommy Edwards.
Pitney's first success as a singer came from one of the song demos he made. One record executive executive in particular, Aaron Schroeder had taken a liking to Pitney and offered to place it with a brand new label that he held a 50% interest in, Muiscor Records, a division of United Artists. The demo was issued as is for the company's first release. The result was "(I Wanna) Love My Life Away" (#39, 1961) in which Pitney using the company's 4-track player to overdub his vocals seven times and played all the instruments. The only out of pocket expense was $30 for the studio and a bass player. This was Pitney's first hit. This attracted the attention songwriting team of Burt Bacharach and Hal David who co-wrote "Only Love Can Break a Heart," "(The Man Who Shot) Liberty Valance," and "24 Hours from Tulsa" for him. Other than Dionne Warwick, he was the best interpreter of Bacharach-David's early compositions. Another 1961 single, Goffin-King's "Every Breath I Take," was produced by Phil Spector, and is one of the very first examples of his pull-out-the-stops Wall of Sound productions. Pitney didn't really find his metier, however, until late-1961's "Town Without Pity," which became his first Top 20 entry. Pitney's label Musicor Records was primarily involved in country and western music and Pitney began recording material in that vein.
In late 1962, he began a month long tour of Britain and Europe which included Italy and Germany where he sang in the countries native tongue. He returned to the States to promote "The Man Who Shoot Liberty Valance."
Pitney then joined the Pittsburgh rock and roll spectacular in May, and headlined the five week long Galaxy of Stars tour in beginning in late July. While crisscrossing the country "Only Love Can Break a Heart," his next hit was released. Originally the B-side, fortunately the disk jockeys flipped it over. It became Pitney's largest selling single.
In November, "Half Heaven, Half Heartache" was released followed by "Mecca" in the spring of 1963. He was now headlining the Show of Stars in Hawaii when "True Love Never Runs Smooth" came out.
Now he made his nightclub debut at Casino Royale in Washington, followed by a prom week engagement at the International Club in New York. Another tour on Dick Clark's Caravan of Stars was launched in July. For Labor Day he was with Frankie Avalon at the Brooklyn Fox, followed by a date at the Shell House nightclub on Long Island and then a Canadian tour.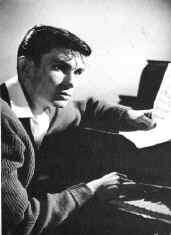 "Twenty-Four Hours From Tulsa" issued in October, 1963 sold a ton of singles. At this time the record buying public was becoming fractured among the girl groups, Motown and surfing. As a result "That Girl Belongs To Yesterday," a Jagger-Richards composition, did not make the Top 40.
In 1964 Pitney's publicist, Andrew Loog Oldham, introduced him to the Rolling Stones, whom he produced. Pitney assisted in the recording of their 12 X 5 album. With Phil Spector, Pitney sat in during a 1964 Rolling Stone recording session, during which they recorded "Not Fade Away", had a brief fling with a teenage Marianne Faithfull, and recorded songs by Randy Newman and Al Kooper long before those musicians became famous.
Pitney withstood the initial onslaught of the British Invasion fairly well, scoring Top 10 hits in 1964 with "It Hurts to Be in Love" and "I'm Gonna Be Strong." The same year he began recording albums in foreign languages. In 1965 and 1966 Pitney recorded country albums with George Jones and Melba Montgomery, scoring country hits with "I've Got Five Dollars and It's Saturday Night" and Louisiana Mama with Jones and "Baby Ain't That Fine" with Montgomery. By 1966, though, he was in serious trouble stateside. Ironically, by this time he was a much bigger star in Britain, making the U.K. Top 10 six times in 1965-66. He could also depend on a faithful international audience throughout Europe, and frequently recorded in Italian and Spanish for overseas markets. In 1966, he became one of the first artists to reach success with Randy Newman compositions, taking "Nobody Needs Your Love" and "Just One Smile" into the British Top 10.
Pitney never achieved another major pop hit in the United States. Pitney continued to tour Britain and Europe avoiding the oldies revival shows.
Pitney remained a prolific recording artist putting out many albums a year in America in the mid-Sixties. Tremendously popular in Italy too, he began recording albums of country tunes in Italian. His last chart hit in America was in 1969, but he continued to to hit the U.K. charts until 1974.
Since the mid-Seventies Pitney cut his touring schedule as he became involved in real estate and stock market investments. He has toured the U.S. infrequently, but continued to work elsewhere in the world. He has recorded in in Italian, German, and Spanish. In 1988 a remake of "Something's Gotten a Hold of My Heart" went to #1 in the U.K. Five years later, Pitney returned to the U.S. concert stage for the first time in almost twenty years with a sold out appearance at Carnegie Hall. Pitney divides his time between touring, mostly overseas and his business interests, which include the Crystal Lake Beach and Boat Club in Connecticut where he worked as a youth.
Gene Pitney was inducted into the Rock and Roll Hall of Fame in 2002