Jan and Dean

Early '60s purveyors of innocuous fun songs concerning surfing, cars, girls, and high school, Jan and Dean were second only to The Beach Boys in the promotion of these Southern California themes. Between their 1958 debut single, "Jennie Lee," and Jan Berry's near fatal car crash in April, 1966, Jan and Dean charted thirteen Top Thirty singles and selling over ten million records worldwide.


Jan Berry 9 (born April 3,1941) and Dean Torrence (born March 10, 1941) attended Jefferson Junior High School and University High School in West Los Angeles. They became friends while playing football (Jan -Tight End and Dean -Wide Receiver) during their senior year when their football lockers were next to each other. They first began singing together, along with some of their teammates, in the shower after practice. After football season, they moved to Jan's home in Bel Air where the family had a music room with piano and two Ampex reel to reel tape recorders. They were also members of the Barons, an informal all male club at University High. The Barons consisted of Chuck Steele (lead singer), Arnie Ginsberg (first tenor), Wally Agi (second tenor), John Saliman (second tenor), Jan (bass), and Dean (falsetto). Added to the group were Jan's neighbor Bruce Johnston because he could play the piano and Dean's neighbor Sandy Nelson on the drums. The Baron's first and only appearance was at their high school's talent show. After that all the members went to other interests leaving just Jan, Dean and .
The Barons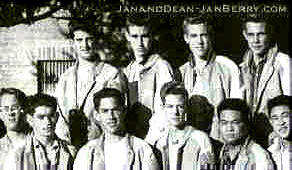 Back Row
Third from left Jan Berry. Fourth from left: James Bruderlin (Actor James Brolin).
Front Row
Second from left: Arnie Ginsburg. Third from left: James Seligman

One night Berry, Torrence, and fellow Baron Arnie Ginsberg drove to downtown Los Angeles to the New Follies Burlesque. The star of the show that night was a well endowed stripper Jennie "The Bazoom Girl" Lee. As Jennie Lee went through her act the men in the audience were chanting bomp, bomp, bomp. While driving home after the show the boys began the bomp bomp chant, then added some lyrics and the result would later become a song called "Jennie Lee".

After working on "Jennie Lee" for a few weeks, with Ginsberg writing the melody and two-thirds of the words, Berry decided he'd like to record it for a Baron's party at his house. With Torrence in the Army Reserve, Berry and Ginsberg took the finished tape to a recording studio in Hollywood.

While at the studio Joe Lubin, a producer for Arwin Records, heard Berry and Ginsberg recording. Lubin offered to take the the tape, add instrumentation, and put it out on the Arwin label. Two months later "Jennie Lee" was a number one record.

Arnie Ginsberg and Jan Berry
Upon completing active duty Torrence returned home. In the late fall 1958 he was invited to play football and it is there that he ran into Berry. After the game Berry invited him to his house to work on some music.
Unable to find or write anything, Berry decided to call friends Herb Alpert and Lou Adler. One of the songs they suggested was "Baby Talk." The four of them worked on " Baby Talk " for about a month. With both singing into a microphone and Berry playing the piano they would record several more versions with Berry picking out the parts he liked and then splicing them together until he had a master version. Alpert would write the arrangement for the rest of the instruments and then pick the session musicians to play the instrumental tracks. In recording studio, the studio musicians would put on earphones and the studio engineer would play the vocal track to them and the session men would play along. The original vocal track and the new instrumental track were then combined on to a new tape. This procedure was totally opposite of the way rock and roll records had been made.

Dore Records LP
October, 1959 they reached the Top Ten with "Baby Talk" and appeared on American Bandstand. They followed with "Heart and Soul," "A Sunday Kind of Love," "There's a Girl," "We Go Together," and a album Jan and Dean on Dore Records over the next three years
They then left Dore Records and signed a two record deal with Gene Autry's Challenge Records. Jan & Dean's first record on Challenge label was the old standard

Heart and Soul which hit number one on KFWB in L.A. On July 8, 1961 and peaked at number 25 on the Billboard charts later that summer. One more record was cut to fulfill their contract.
Jan and Dean now signed with Liberty Records. It took five records before they had a hit with " Linda." This song had been popular in the fifties and contrary to the rumor it was not written about Linda McCartney although there was a connection. The Linda that the song was written about had no interest in posing for a picture to be used for the cover of the sheet music, so a lawyer that was involved with the song suggested that his young daughters name was Linda, Linda Eastman and he thought it would be neat to have her picture on the sheet music, so her photo was featured on the final product. Linda Eastman went on to become Linda McCartney, Paul's wife.
In late 1962, Jan and Dean became surf music converts after performing at Hermosa Beach High School not far from the City of Hawthorne. Since they didn't have their own band the promoter hired a local group who just had their own hit record "Surfin' Safari" the Beach Boys. At one show the Beach Boys played a few songs and Jan and Dean followed with three or four. Seeing the enthusiastic crowd reaction they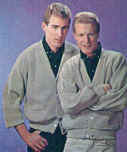 asked the Beach Boys if they'd like to do their set again and have them sing with them. They backed the Beach Boys on two songs and the crowd went wild and a life long friendship was started on that stage on a warm California spring evening in 1963.
The collaboration convinced Jan and Dean to include a surf song in their upcoming album, featured the song "Linda." Lou Adler, their record producer and manager suggested that the album be called Jan and Dean Take Linda Surfing. Not knowing any surfing songs, except the two the Beach Boys had done, Dean called Brian Wilson of the Beach Boys, and asked if the group would play the instrumental parts to "Surfin'" and "Surfin' Surfari" on the album. At the session, Wilson sang the opening line of a new song, which he offer to Jan and Dean. The duo added lyrics and recorded it as "Surf City," a song that in 1963 went to the top of the charts. The next year, they followed with "Ride the Wild Surf" and "Sidewalk Surfin'