Jan and Dean

While they lacked the Beach Boys' depth and capacity for artistic growth, Jan and Dean's hits from 1963 and 1964 -- which also included "The Little Old Lady (From Pasadena)," "Drag City," "Honolulu Lulu," and the mini-soap opera "Dead Man's Curve" -- are in the same class as the Beach Boys' early work in their infectious, energetic invocation of good times and California sunshine. They added an irresistibly reckless humor to the genre, and were well cast as the fun-loving hosts of the classic 1964 rock and roll hootenanny film The T.A.M.I. Show (for which they performed the rip-roaring theme, "(Here They Come) From All over the World".

All the while that Jan and Dean were recording stars and were flying around the country playing concerts on the weekends, they were both full-time college students, Dean in the school of architecture at the University of Southern California where he earned a bachelor degree in fine arts, and Jan at U.C.L.A. where he was pre-med and upon graduation he was accepted in medical school.
In 1964 Jan and Dean started Majic Lamp Records. Over two years they released fourteen singles, with some of them being by Johnny Burnette, Karen Carpenter and Davy Jones of the Monkees. Dean also founded J&D Records in 1966, but it folded after two releases
The duo's success, already on the wane a bit, was tragically cut short by Jan

Berry's near-fatal auto accident in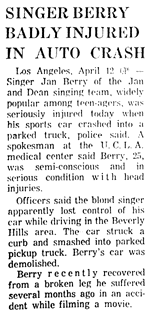 April1966, which had been eerily foreshadowed by the lyrics of "Dead Man's Curve." April 12, 1966 on Whittier Drive in Beverly Hills, Berry pulled out to pass a slow-moving vehicle and slammed full-speed into a truck that was unexpectedly parked at the curb. The Paramedics that arrived on the scene thought Berry was dead. Checking his vital signs, they found he was alive, and rushed him to the UCLA Hospital. There they found Jan's brain had been severely damaged and even numerous major brain surgeries could not completely repair the damage.. Not expected to live, Berry was in a coma for months and awoke unable walk, speak and was paralyzed on the right side. The name Jan & Dean remained only in the memories and record collections of their many fans for 10 years.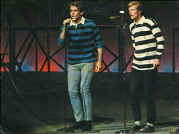 With Jan and Dean's career over as a result of Jan's accident, Torrence turned his attention to design, which he'd been studying at U.S.C. during Jan and Dean's recording career.

Kittyhawk Graphics section courtesy Surfin' Again
Sticking to the business he knew best, Torrence opened Kittyhawk Graphics, a graphics design firm specializing in music industry design and packaging.

In 1967, less than one year after Berry's accident, Kittyhawk was sharing office space with an enterprising young producer named James William Guercio, who came to Torrence with a design project. Guercio wanted Torrence to help design a logo for a new group Guercio was producing, called "Chicago Transit Authority." Using elements of the Coca-Cola logo design, Guercio and Torrence came up with a basic concept which was then given to a lettering expert to refine and complete. That logo, later shortened along with the group's name to "Chicago" was Kittyhawk's first major project.

In early 1968 Dean designed the first of over two hundred album packages to follow, "The Turtles Golden Hits."

In 1969 Dean designed the first of nine covers for The Nitty Gritty Dirt Band, a relationship that continues to this day and has resulted in three Grammy Award nominations for "Best Album Cover of the Year"

In addition to those nominations, Torrence won a Grammy in 1972 for "Best Album Cover of the Year" for the album Pollution by the group of the same name.
In 1969 Paul Morantz, a young law student at the University of Southern California, met Jan Berry at a resort motel in Palm Springs, California. Morantz and Berry became instant friends. After listening to some of Berry's stories, Morantz who dabbled in freelance writing, decided to write a feature story about Berry and his struggle against all odds.

The story first appeared in the University of Southern California Daily Trojan in a short-edited form. Later Morantz spent many months re-writing the article for a California magazine called West. Just about the time he was putting the finishing touches on the story West stopped publishing.

By this time Morantz had graduated from law school, was busy practicing law, and the story was shelved.

A couple of years later, Morantz dug out Berry's story. Re-reading it Morantz realized that the story could easily be expanded to include the whole Jan & Dean story. At this point, Morantz called Torrence and they got together to discuss what had begun to take on the proportions of a larger project.

After many regular meetings and major rewriting Morantz and Torrence submitted the re-written story to Rolling Stone magazine, after it had first been turned down by all of the major general interest magazines on the ground that not enough people would remember Jan & Dean to justify its publication.

Rolling Stone accepted the story with tremendous enthusiasm, scheduling Jan & Dean to appear on their cover with the article given a major spread within. The publication date was September 12, 1974. But a funny thing happened on the way to the press, Nixon resigned and Nixon's picture pushed Jan & Dean's off the cover. But the story ran and was very well received. There seemed to be a renewed interest in Jan & Dean. Torrence and Morantz now decided that the story had all the elements of a feature film, so they started writing a screen play and started shopping the property all over town.

After two years of rejections a deal was finally made with CBS to make the movie for television. Dick Clark Productions filmed "Deadman's Curve" starring Richard Hatch ("Streets of San Francisco", "Battlestar Galactica"), Bruce Davison and guest-starring Dick Clark, Wolfman Jack, Mike Love, and Bruce Johnston of the Beach Boys was started in late 1977.

The very successful CBS-TV Movie "Deadman's Curve" airing in prime time nationwide in both 1978 and 1979, chronicled Berry's valiant fight to regain his ability to function normally.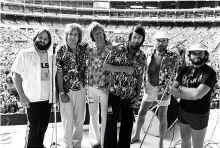 With a strong will, therapy, and the support of his partner, Dean Torrence, Jan & Dean toured with the Beach Boys in 1978 and 1979.
In 1986, on a friendship tour of the People's Republic of China, they were the first to be allowed to skateboard on China's Great Wall.

Now celebrating more than a decade of success together with their reunion and are also celebrating over 30 years of sunshine music. Jan & Dean made a surprise guest appearance on the Vicki Lawrence Show, along with John Davidson and James Darren as Vicki's teenage heart-throbs.

"The Courage of Jan Berry" aired as a feature segment on Entertainment Tonight confirming a continuous and growing career as a national concert attraction.

Jan and Dean Today
In 1994 Jan & Dean played Three Rivers Stadium with James Brown to 45,000 fans and after 15 years, reunited with the Beach Boys at Mile High Stadium rocking 55,000 fans.
Over the years, Jan and Dean have appeared at the largest stadiums as well as small county fairs. They've headlined Casinos from Las Vegas to Biloxi. They have performed at corporate parties and fraternity keggers. They have even done a few weddings and birthday parties. Jan and Dean continue to appear together, and Dean has appeared with his own band the Surf City All Stars.