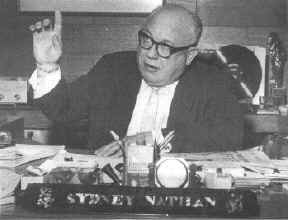 Nathan's biggest mistake was failing to hang on to the Platters. Signed in 1953 they had three recording sessions. The last one included "Only You" but was never released. The Platter's manager Buck Ram managed the Penguins, too. Mercury Records was interested in the Penguins and Ram told Mercury if they wanted the Penguins they had to take the Platters, too. The Platters would go on to be the most successful vocal group of the fifties.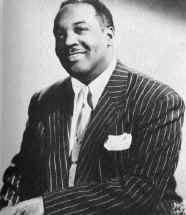 Bill Doggett
Nathan was in a good position when rock and roll came on the scene, but had never found that artist who could cross over and sell to white teenagers. "Honky Tonk" by Bill Doggett was his biggest rock and roll record.
Dave Bartholomew, Fats Domino's writing and producer at Imperial Records, recorded "My Ding-a-Ling" for King Records in 1952. It went nowhere. Later Chuck Berry featuring it in his concerts would have a number one hit with it twenty years later.
Seven or eight months later Willie Littlefield recorded the the original version of Leiber and Stoller's Kansas City. It was released as K.C. Loving rather then Kansas City.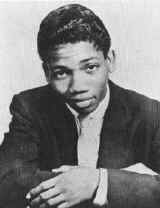 Little Willie John
Little Willie John was born in Arkansas and raised in Detroit. Identified early as a prodigy many bandleaders courted him and eventually he signed with Paul Williams. In June, 1955 he signed with King and a year later he had his biggest R&B hit "Fever." In 1955, King began recording Rockabilly and had a Top Ten record by Boyd Bennett and His Rockets. With only an occasional rock hit, King went back to its R&B and country roots.
Little Willie John was inducted into the Rock and Roll Hall of Fame in 1996.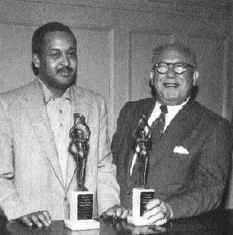 Henry Glover and Syd Nathan
The music business began to change in the late fifties with the F.C.C. payola hearings. Nathan had made no secret of his payments, they had been made by check and used as a business deduction. As the hearings progress he made fall guys out of A&R men Henry Glover and Ralph Bass. Glover left King in 1959 because he felt Nathan had betrayed him during the investigations. In October, 1960 Nathan agreed to a consent order from the Federal Trade Commission prohibiting the paying of payola.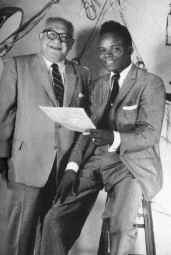 Syd King with Hank Ballard
In 1958 The Midnighters contract expired with King. Ballard went to Miami and cut a session that included "The Twist." The session somehow ended up with Vee- Jay Records. Somehow Nathan got the Midnighters back and signed them to the King label. Now called Hank Ballard and the Midnighters with "the Twist" being the first song recorded under the new contract. "The Twist" was the b side of "Teardrops On Your Letter" and went nowhere. However, Ballard kept playing it at show dates along with a dance routine he had worked up. Buddy Dean, a Baltimore host of a TV dance show saw the excitement that "The Twist" was creating, called Dick Clark who invited Ballard onto the show. Ballard was hung up in Atlanta with a woman, so Clark had Ernest "Chubby Checker" Evans perform the song. The rest is history.
Ballard then came up with "Finger Poppin Time" which started a second dance craze.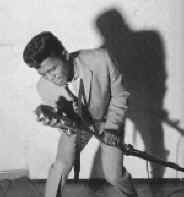 The star of King's later years was James Brown who was signed to the Federal label in 1956. A branch manager in Federal's Georgia office gave a dub to Ralph Bass to listen to. After hearing it Bass drove to Macon, Georgia and signed him on the spot for two hundred dollars.
Bass took the Flames back to Cincinnati and recorded "Please, Please, Please" the song he had heard on the dub. After hearing the record Nathan said
" That's the worse piece of crap I've heard in my life. It's someone stuttering on a record only saying one word. You spent all that money bringing those people up here, giving that man two hundred dollars" Syd Nathan
All right old man, here's what you should do. Put out the record just in the Atlanta market. Test the waters you know. If it is not a hit, you won't have to fire me, I quit Ralph Bass
"All right old man here's what you should do. Put the record out just in the Atlantic market. Test the waters. If its not a hit , you won't have to fire me, because."
No I'm going to put it out nationally to prove what a piece of shit it is. You'll be the laughing stock of the business." Syd Nathan
Nathan was proven wrong when "Please, Please,Please" eventually charted #5 on the R&B charts, but ultimately seemed to have been right as the next nine went nowhere. 1958s "Try Me" saved Brown from being dropped and he became a fixture on the R&B charts for the next twenty years.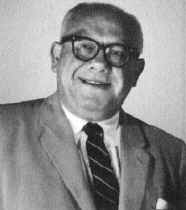 Syd Nathan in the late 50s
By the early 60s, with airtime harder to obtain and the major labels moving into his market, King became a distributor for other independent labels. The more successful ones included Beltone that had a Top Ten hit with Bobby Lewis's Tossin' and Turnin" and 4 Star a Los Angeles country label with Top 30 hit Hot Rod Lincoln by Charlie Ryan and the Timberline Riders and performers Maddox Brothers and Rose and Ferlin Husky.
In 1961, Nathan purchased Bethlehem Records, a New York jazz label, bringing masters by Nina Simone and Mel Torme to King.
Nathan, who was never healthy, began having heart problems while in his fifties. A month and half shy of the official retirement age and six months shy of King Record's twenty-fifth anniversary Nathan died of heart disease complicated by pneumonia on March 5, 1968 in Miami, Florida.
After funeral services at the Weil Funeral Home in Cincinnati, Nathan was buried on March 7 at Judah Torah Cemetery. He was survived by his wife Zella; son Nathaniel; daughter Beverly Coo. sister Dorothy Haplper and brother David Nathan.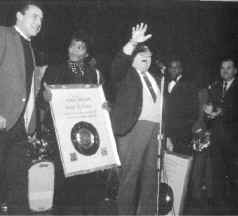 Hal Neely, James Brown, Syd Nathan 1967
In October King was sold to Starday Records, a Nashville-based country label, with the understanding King-Starday would be sold to LIN Broadcasting in Nashville. Three years later Tennessee Recording and Publishing, owned by Leiber and Stoller, ex-King vice-president Hal Neely and music publisher Freddy Bienstock, purchased King Starday from LIN. In the July before the sale LIN had sold the James Brown contract and catalog to Polydor while retaining the rest.
In 1975, Tennessee Recording and Publishing divided King-Starday assets into two packages. The first of masters and tapes of King and its subsidiaries and the legal rights to use those recordings.
The second was the publishing rights of King and Starday including Lois, J&C, Armo, Lonat, Mar-Key, Arnel among others.
Tennessee Recording would later selling the masters to GML, Inc., a Nashville company owned by Moe Lytle. Lytle has now owned King longer than Nathan. GML later acquired the masters of Sceptor/Wand, Musicor and other labels making King Starday part of the largest independently owned vault of masters in the world.

King Records building as it looked in 1991 Historical Marker
For more than twenty years after his death, Nathan was a largely forgotten man, both in Cincinnati and the recording industry. In life local establishment regarded King as local oddity owned by a tough talking Jew who recorded hillbillys and Negroes with strange nicknames. The neglected factory, visible from Interstate 71 near downtown for years became a maintenance hub for United Dairy Farmers, a chain of diary convenience stores.
In the 1990s, Nathan's status was revitalized with the building of the Rock and Roll Hall of Fame in Cleveland. The Hall's membership included several King artists and producers as well as Nathan.
"What happened at King couldn't have happened in New York or Los Angeles. Cincinnati always had one foot in the North and one in the South, with access to blacks in the industrial cities as well as the Appalachians" - Robert Santelli, the Rock Hall's historian and noted blues writer.
King's legacy of more than 19,000 recordings in twenty-five years qualifies Nathan as one of the most prolific American record labels of all time. King's innovations. helped steer the recording industry through an exciting period, and if you asked Nathan he would probably say he was only trying to make a buck.
Ralph Bass was inducted into the Rock and Roll Hall of Fame in 1991
Syd Nathan was inducted into the Rock and Roll Hall of Fame in 1997