The Kingsmen

A rock & roll band from Portland, Oregon, the Kingsmen's one big hit "Louie, Louie" defined the garage-band style and became one of the all-time classics.


Members:
Lynn Easton
Gary Abbott
Don Gallucci
Mike Mitchell
Norm Subdholm
The Kingsmen formed in Portland, Oregon in 1959. As young teenagers, they played high school parties, teen dances, supermarket openings, and fashion shows. Like many fledgling bands of the day, they copied what they heard on the radio: Elvis, The Ventures, Country music, r&b, and the burgeoning Northwest Sound. They became one of the most popular bands in the Portland area.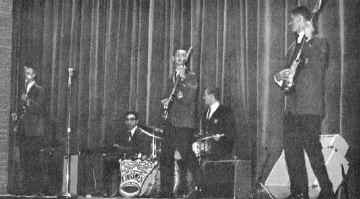 Kingsmen circa 1963
The Kingsmen started recording in 1963 and consisted of Jack Ely (guitar and vocals),Mike Mitchell (guitar), Dan Gallucci ( (piano), Bob Norby (bass) and Lynn Earton (drums). Easton had the original band, the Journal Juniors, in junior high., when Ely joined as a replacement. The got the name Kingsmen from another band that had broken up. Gallucci. who had played keyboards with Gentleman Jim and the Horsemen, joined in 1962. For a year they built a reputation as a hard driving R&B band with Paul Revere and the Raiders as their only regional rival.
Their first effort was "Louie Louie," a song played by virtually all Northwest rock&roll and r&b bands, and an original instrumental, "Haunted

Castle." The session, costing $36 at Portland's Northwest Recorders, produced a tape used to audition for a job on a cruise ship bound for Australia. The cruise line hated it!

Jerry Dennon, a record producer in Seattle, pressed a few hundred copies on his regional label, Jerdon. Northwest music fans were already familiar with "Louie" as released by Richard Berry (1956), The Wailers (1961), and Paul Revere and the Raiders (who recorded their version in the same studio within a few days of the Kingsmen session). The Kingsmen fought it out with the Raiders' on local radio for a few months. Somehow, the Kingsmen version found its way to the East Coast, where a couple of Boston stations played it, generating a huge response from listeners. Jerry Dennon entered into an agreement with New York's Wand label for immediate mass pressing and distribution.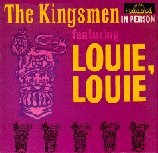 "Not in anyone's wildest imagination are the lyrics as presented on the Wand recording in anyway suggestive, let alone obscene"
Wand Records spokesman on the Kingsman' Louie Louie, February 1, 1964
Wand worked the record effectively and "Louie" rapidly broke out in several markets, climbing the charts. As it began to drop, a controversy regarding the lyrics spread across America. The record was banned from sales and airplay in Indiana and elsewhere which, of course, stimulated even more interest; so much so that Wand reissued "Louie" in 1964 (and in 1965 and 1966). The record reached #2 in Billboard and #1 in Cashbox.

The band's first LP resulted from a live recording in 1963 at The Chase, a teen nightclub in Milwaukee, Oregon (production costs were less than $800). Wand included the studio version of "Louie" to which they added taped crowd noise to simulate a live performance (a practice Wand continued for several subsequent studio LPs). "Money," their second Wand single was taken from the live LP. Many more releases followed. At one point, the Kingsmen had two singles and three LPs on the charts at the same time.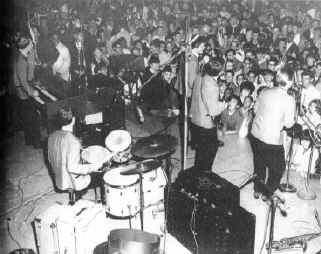 Kingsmen circa 1965
Photo courtesy Mulholland Studio
They became the #1 touring band in the United States. In 1965, during a series of one-nighters, they set fifty-six consecutive attendance records in colleges, ballrooms, arenas, state fairs, and community dances. Many promoters used the Kingsmen as a promotional gimmick to "repel" the British Invasion (a joke to the band, as they loved that music). They appeared in concert and on television with the Rolling Stones, Zombies, Kinks, Searchers, Peter and Gordon, Chad and Jeremy, Dusty Springfield, and others; and North American acts such as the Beach Boys, Righteous Brothers, Four Seasons, Isley Brothers, Guess Who, Turtles, Shangri-Las, Byrds, Lovin' Spoonful, Knickerbockers, and all their Scepter/Wand label mates. They were featured on the top TV music shows including Shindig, Hullabaloo, American Bandstand, Lloyd Thaxton, Action; and in the beach party movie, "How to Stuff a Wild Bikini."

With two breaks (during the psychedelic and disco eras), and several personnel changes along the way, they have performed ever since at concerts, corporate events, beach parties, and "Louie Louie" parades throughout North America. Three of the Kingsmen, Mike Mitchell, Dick Peterson, and Barry Curtis, have been together since 1963.