Marvelettes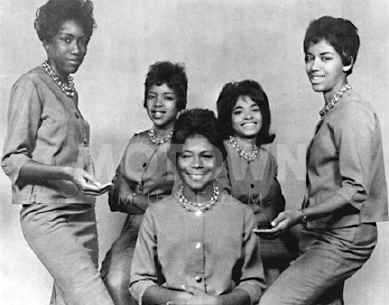 (L to R Juanita Cowart, Georgenna Tillman, Gladys Horton, Wanda Young, Katherine Anderson - 1961)
Despite twenty-one R&B chart hits, twenty-three Pop hits, and Motown's first number one single, the Marvelettes were never the darlings of Motown that they aspired to be.
"They never really respected us. Berry Gordy lost the Marvelette name in a gambling game once, that's how much they cared about us. We were just nothing to them"
Gladys Horton


Members:
(1961-1963)
Katherine Anderson
Gladys Horton - lead
Wanda Young (Rogers) - lead
Georgeanna Tillman
Jauanita Cowet

(1963-1965)
Katherine Anderson (Schaffer)
Gladys Horton
Wanda Rogers
Georgeanna Tillman


(1965-1967)
Katherine Schaffner
Gladys Horton
Wanda Rogers



(1967-1970)
Katherine Schaffner
Ann Bogan
Wanda Rogers


Starting out 1961 as a quintet in rural Inkster, Michigan, the Marvelettes were leads Gladys Horton and Georgia Dobbins with Georgeanna Tillman, Juanita Cowart, and Katherine Anderson. Not confident in their singing abilities they called themselves the Casinyets which stood for can't sing yet.
| | | | | | |
| --- | --- | --- | --- | --- | --- |
| Katherine Anderson | Juanita Cowart | Georgia Dobbins | Georgeanna Tillman | Wanda Young | Shirley Sharpley |
While attending Inkster High, the five seventeen year olds entered the school's talent show where the first three prizes were auditions at Detroit's Motown Records. The girls then called the Marvels finished fourth ( though in a 1980 interview Horton said they came in first), but their teacher, Mrs. Shirley Sharpley, convinced the principal Anita Cox to let them go on the audition. It was Sharpley that prevailed upon Jon O'Den (Berry Gordy's driver and bodyguard) to listen to the Casinyets.
The Marvelettes' early influences were the Chantels and the Shirelles, so it was no surprise when they auditioned with "He's Gone" and "I Met Him On A Sunday." The girls passed their April 1961 audition for Brian Holland and Robert Bateman with flying colors, but sent them home telling them they had to come up with an original song. Having never written anything, Dobbins asked William Garnett, a songwriting friend, if he had anything. He showed her a blues song entitled "Please Mr. Postman." In turn for writing credit she then rewrote it keeping the title and theme. She then gave it to Horton to learn and then dropped out of the group to take care of her sick mother. The group then added Wanda Young, an Inkster graduate, and went back to Motown.

From left to right - Gladys Horton, Wanda Young, Georgeanna Tillman and Katherine Anderson
"Anyway we won first prize, but until we got to Motown, it still hadn't reached my mind how important it was. We met Berry Gordy and the Miracles, and it was then I realized the potential of this meeting. We began to picture ourselves like the Supremes, who were the company's girl group"
Gladys Horton
Gordy renamed them the Marvelettes and "Please Mr. Postman" on the Tamla label was released in the summer of 1961, around four months after the first single by Motown's other girl group, The Supremes.
On September fourth the song entered the Billboard charts and the R&B charts one week later. Slowly moving up the charts "Please Mr. Postman" it took fourteen weeks for it to finally reach the top spot.
"The first number one came to easy for us. We weren't pretty city girls from the projects like Motown's other girl group, the Supremes. We had no experience of life at all. We were naive little country girls, and we didn't know how to handle the situation. We had no idea how to behave, we didn't know what to wear. we didn't even know how to put make up. We learnt as we went along, of course, but it was very hard at first." Gladys Horton
An immediate rivalry arose between the Supremes and the country girls from Inkster.

Record sleeves courtesy Third Sibling Enterprises
The Marvelettes' next song "Twistin' Mr. Postman had an heavily accented blues beat. It would ultimately reach number thirty-four Pop and number thirteen R&B. The group was becoming popular on tour, but underlying tensions and internal competition was taking their toll. The Marvelettes' next record "Playboy" was a hit reaching number seven Pop and number three R&B on June 23. The Supremes were still three weeks away with their first Pop charter "Your Heart Belongs To Me."
Next what was to become their most phone number in the country, Beachwood 4-5789 in the summer of 1962 (#17 Pop, #7 R&B). Then "Strange I know" reached number forty-one Pop and number ten R&B in early 1963, but the rest of the year was a disappointment with "Locking Up My Heart" doing the best (#44 Pop, #25 R&B)
.

By 1965 the group was having hits again with "Too Many Fish In the Sea (#25 Pop, #15 R&B), "I'll Keep Holding On" (#34 Pop, #11 R&B), and "Don't Mess With Bill" (#7 Pop, #3 R&B), written by Smokey Robinson and with Wanda on lead.
The Marvelettes than made what turned out to be a major mistake by passing on a song brought to them in 1964 by Holland-Dozier-Holland. The writers then took "Where Did Our Love Go" to the Supremes, giving them their second number one record in a row.
In 1965 Juanita left the group reportedly following a nervous breakdown. When Georgeanna fell ill with sick cell anemia and lupus soon after and had to leave the touring, the group continued as a trio.
"There was pressure on the group. Juanita had a nervous breakdown and had to leave. She had made a silly remark on Dick Clark's show and everyone in the company was constantly teasing her about it. She really took it to heart and became very depressed. she was only 16. Georgeanna had to leave due to ill health. She was always very tired; there was something wrong with her and the doctor advised her to get off the road."
Gladys Horton
In 1967 The Marvelettes had three hits in a row with "The Hunter Gets Captured by the Game" (#13 pop, #2 R&B), "When Your Young and in Love" (#23 Pop, #9 R&B), and "My Baby Must Be a Magician" (#17 Pop, #8 R&B).
Horton then left the group to get married and Anne Bogan joined.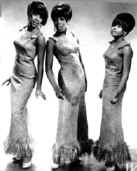 Their last chart record came in late 1968 with "Destination: Anywhere (#63 Pop, # 28 R&B).
In 1969 Young decided to stay in Detroit when Motown moved to Los Angeles. That was the end of the group, but four more singles were issued through 1971, the last being "Breathtaking Guy."
In the mid-80s with children grown up Gladys Horton decided to reform the group. She approached Katherine and Wanda with this in mind, but neither was interested. She then found Echo Johnson and Jean McClain and the group signed with Motorcity Records. After their first Motorcity release "Holding On With Both Hands" Johnson and McClain were replaced by Jackie and Regina Hollemon.
Georgeanna Tillman married Billy Gordon of the Contours and died of sickle cell anemia in 1980. Wanda Young married Bobby Rogers of the Miracles, Katherine Anderson married Joe Schaffner, road manager for the Temptations. Gladys Horton is single and lives in Los Angeles where she cares for her handicapped son.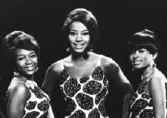 (L to R: Ann Bogan, Wanda Young, Katherine Anderson - late 60s)
The Marvelettes had shot to fame with their first record and were a good live act; so why hadn't Berry Gordy promoted them? In retrospect it, it seems that Gordy had found the Marvelettes a little to rough and ready, a little to ordinary, to really push them beyond that of a touring group with the occasional hit. The Marvelettes had an earthy, mature way of singing, which mixed with their youthful romanticism, gave the group an unique appeal. Yet though the group's appeal has proved to be more durable than many of their contemporaries, one can see why for the upwardly mobile Berry Gordy of the '60s, the Marvelettes weren't quite "uptown" enough. The mixture was was not quite right; there was too much Detroit R&B in there, and not enough New York pop.
"On top of that, we weren't getting support from the company. In fact they hated us, made fun of us, we were some kind of joke to them. They really looked down on country people like us because we didn't have there slick city ways. Also, we couldn't sing as good as the Supremes; they had been practicing their harmonies for three or four years we had only started. But the real reason they were mad at us, I guess, was that we got a hit before the Supremes. We got Motown their first straight hit with a girl group and it was with a song we had written ourselves. Can you imagine? Motown had been grooming the Supremes for years and the Supremes had done nothing. They had writers like Smokey Robinson and each one had been trying to get a hit on the Supremes. But all of a sudden here were these little nobodies, with their own song that they wrote at number one on the charts." Gladys Horton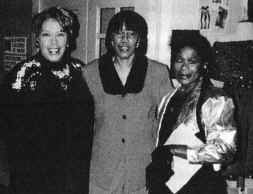 Katherine Anderson, Juanita Cowart, Gladys Horton - 1999
Photo courtesy Frances Baugh
Georgeanna Tilman married Billy Gordon of The Countors. Ann Bogan sang in trio called Love, Peace and Happiness. Katherine Anderson cowrote "I Don't Want To Do Wrong" for Gladys Night.. Gladys Horton moved around th country before settling in Los Angeles where she raised her three sons and had a beauty parlor.
Gladys Horton died from complications of a stroke January 26, 2011
Wanda Young Rogers died December 15, 2021
Georgeanna Tillman died from complications of sickle cell-anemia and Lupus January 6, 1980.
Georgia Dobbins died September 18, 2020, she was 78.
Katherine Anderson died of cardic arrest September 19, 2023 at Corewell Health in Dearborn, Michigan at the age of 79.