Murmaids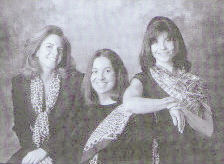 (L-R) Cynthia Perry, Terry Fischer Siegel, Carol Fischer Morell
In October 1963 The Murmaids recorded "Popsicles and Icicles". It turned out to be a national hit, #3 on Billboard Hot 100, and the only one they ever had.


Members:
Sally Gordon
Carol Fischer
Terry Fischer
Carol and Terry Fischer were sisters were 15 and 17 in 1963. Sally Gordon, also 17, was a neighbor and mutual friend of the sisters. They all were students Grant High School, where they sang in the choir. The Fischers' father was Carl Fischer, composer of standards such as Billie Holiday's "You've Changed" and "We'll Be Together Again" sung by Frankie Laine. Carl Fischer was also Laine's musical director and arranger for 10 years. Their mother, Terry Sr., sang with the big bands of the day, ultimately becoming the first female singer with the Stan Kenton Orchestra. Their grandmother and her three sisters played the vaudeville circuit as the Locus Sisters. Sally's father, Leonard Gordon, was Assistant Music Librarian at Paramount Pictures.
While in high school thhe girls sang in the glee club and made demos for a friend Michael Postil. Postil would later make his mark a Mike Post writing television themes for "hill Stret Blues" and "Law and Order'. It was at one of these sessions that Kim Powley heard the sisters. Fowley asked the sisters if the would if the sisters would listen to a song by a written by a young David Gates. The girls liked the song and said they wanted to record it. Fowley suggested they should think about a third member. Sally Gordon , a friend from the school's glee club, was added.
Mrs. Fischer the group's guiding light. Before the girls girls left for college in the fall of 1963 Mrs. Fischer took the teenage singers to the offices of Chattahoochee Record owner Ruth Conte. Carol and Terry Fischer made their first recordings singing on demos produced by Mike Post. A school friend of Terry Fischer's, Post would occasionally have the Fischer sisters provide back-up vocals on sessions at Gold Star Studios. Sally Gordon was hired to sing with the sisters on a demo record for prodcer Kim Fowley. He presented the group to Ruth Conte who signed them to her company, Chattahoochee Records.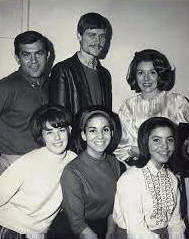 Murmaids in studio, 1963
(Top L-R) Gold Star studio owner Stan Ross, label owner Ruth Conte, producer Kim Fowley
Bottom (L-R) Sally Gordon, Terry Fischer, Carol Fischer
Kim Fowley was Chattahoochee's in house producer. Fowley had been given a song by David Gates. "Popsicles and Icicles" was silly and sweet, an obvious vehicle, for a wholesome trio like the Murmaids.

(L-R) Sally Gordon, Carol Fischer, Terry Fischer
Once "Popsicles and Icicles" was recorded just before the girls left to college. Popsicles and Icicles" began receiving airplay in San Francisco and then Los Angeles in October 1963, breaking nationally in November, and reaching its peak at No. 3 on Billboard and Cash Box November 23, 1963. Chatahoochee issued an unsuccessful singles "Heartbreak Ahead" and "Wild and Wonderful" in 1964 hoping to squeeze out another hit before the group broke up. The singles were unsuccessful.
By this time the Fischer sisters went off to college. Terry would evetually begin a solo career
As Murmaids members swam off toward a sea of obscurity; Cathy Brasher and Yvonne Young were called in to be the Murmaids of 1966. Their folkish rocker "Go Away" wasn't a bad effort, but after that one release on Liberty Records in 1968, the Murmaids did just that.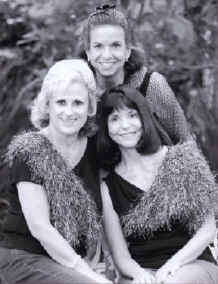 (clockwise from left) Suzi Robertson, Carol Fischer, Terry Fischer
Chattahoochee Records re-formed the group with Sally Gordon and two other sisters in the early 1970s. With producer Kim Fowley, they recorded two singles. The Murmaids made one television appearance on the Lloyd Thaxton show in 1964. The group broke up, which delayed the release of the album. Chattas, one of them called "Paper Sun", with Sally Gordon doing the vocal arranging.
Sally Gordon left for Lewis and Clark College In Portland, Oregon, before "Pop and Icicles become a hit and as would Terry Fischer later. Carol Fischer returned to high school.
Carol Fischer married John Morell and had two sons.
Sally Gordom married Daniel Mark and had a son. She worked as a studio singer until 1976, the went to work for Warner Brothers< the Francis Ford Coppala and finally head of PR at Lucasfilm from 1981 to 1987. She moved to Paris where she became a historical researcher, singer and piano teacher.
Terri Fisher died from Parkinson disease March 28, 2017 at the age of 70.