Neil Sedaka

Coming from a doo wop background, yet classically trained, Neil Sedaka composed more than a 1,000 tunes, including a dozen major pop hits he corded between 1959 to 1963 that were co-authored with Howard Greenfield, his lyrist until 1972.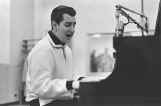 Neil Sedaka was born in the Brighton Beach section Brooklyn, New York on March 13th 1939.The six-story brick apartment building was also home to his future songwriting partner Howard Greenfield. He lived with his father Mac, a cabdriver whose parents had emigrated from Turkey, his mother, Eleanor, of Russian-Polish descent, grandfather, grandmother and five aunts..
Neil Sedaka began his interest in music at the age of four, by listening to the radio program, The Make - Believe Ballroom. At the age of 8, Neil

began playing the piano for five hours a day. A year later, Neil's music teacher at the

Juilliard Prep School, encouraged Mac and Eleanor, whose own mother was a concert pianist, to buy their son a piano. Neil had set his sights on being a Doctor of Classical Music. As a teenager, Sedaka was selected by Arthur Rubenstein to play on a show on New York's classical music station WQRX. By that time he had become strongly attracted popular music as well and had by age thirteen begun writing songs to lyrics by high school friend Howie Greenfield.
In 1956, while at Lincoln High, Sedaka formed the Linc-Tones. After months of street corner harmony, the Linc-Tones auditioned for Morey Croft's Melba Records, with offices in the same Broadway block as the more famous Brill Building. Accepted as a vocal group, they were booked into the rehearsal hall to practice. At this time Sedaka was asked to help out on another group's session and played chimes on "Church Bells May Ring" by the Willows.

Linc-Tones aka Tokens
Neil Sedaka second from the right
Photo courtesy Brian Gari
When it came the Linc-Tones time to record he sang lead on the ballad "While I Dream" with Hank Medress singing lead on the rocker, "I Love My Baby." Both songs were written by Sedaka/Greenfield. Upon issuance Melba changed the group's name to the Tokens. Crofts was able to get some airplay around New York, but the single failed to chart nationally. No other singles were issued and the disillusioned group broke up only to re-emerge years later with the hit "The Lion Sleeps Tonight."
In 1958, whilst playing at the Esther Manor near Monticello in New York state, Neil met 16 year old Leba Strassberg daughter of the owners, Esther and Irving. Neil knew he was going to marry Leba before he even spoke to her! Neil being ever true to his word did so at the Manor in 1962. This highly competent businesswoman has been Neil's auxiliary driving force and his manager since the mid - 70s. Leba has said that, "Neil may not be the world's greatest songwriter, singer or performer, but nobody can do all three better."

Sedaka with Howard Greenfield
While on a two year scholarship to Julliard School In New York, Sedaka sold his first song, "Stupid Cupid," a hit for Connie Francis in 1958, as was his "Where the Boys Are, (which Francis sang in the hit teen movie of the same name) in 1961. He also sold Sedaka-Greenfield songs to Jerry Wexler at Atlantic Records who placed them with R&B singers LaVern Baker and Clyde McPhatter. On the advice of Doc Pomus Sedaka signed with Don Kirshner's Aldon Records. Kirshner liked Sedaka's voice and got him a recording contract with RCA Records. In 1959 he had two hits "The Diary" (#14) and "I Go Ape" (#42). More hits followed. "Oh! Carol" (#9) in 1959; "Stairway To Heaven" (#9) in 1960; "Calendar Girl" (#4), "Little Devil (#11) and

"Happy Birthday Sweet Sixteen" (#6) in 1961; "Breaking Up Is Hard to Do" (#1) and "Next Door to an Angel" (#5) in 1962.
Sedaka's career slowed down in 1963. However, through the Sixties and early Seventies he and Greenfield continued to write songs for others including the Fifth Dimension's "Working on a Groovy Thing" and Davy Jone's "Rainy Jane". Sedaka split with Greenfield in 1963 after he had begun a performing comeback in England. Sedaka made three albums in England. Elton John helped him get back on the U.S. charts by reissuing songs from the British albums on one U.S. album "Sedaka's Back" and then having him record for his Rocket label. Sedaka's Back (#23 1972) and The Hungry Years (#16) 1975) both went gold. "Laughter in the Rain" was a #1 hit in 1974 and his "Love Will Keep Us Together (co-written with Greenfield) was a number #1 hit for the Captain and Tennille, winning a 1075 Grammy as the Record of the Year.
The decline of Sedaka's career was with his management as well as his music. Early Nevins and Kirshner handled the performing aspect but did nothing to advance it.Sedaka bought out his contract with Nevins and Kirscner for $25,000. However like Darin Sedaka didn't hire a professional but turned his career over to his mother. Ben Sutter, an air conditioning salesman that his mother was having an affair with, became Sedaka's manager.
Sedaka blamed not only his mother, Ben Sutter but, Kirshner and Nevins too, claiming his money and entire life was being run by them. With wife and first child Dara, Sedaka founded it difficult to support the family on a $275 allowance, $25 which went directly into savings account. After son Mark Charles arrived, Sedaka found it impossible and tried to take of his money and career. His mother response was to swallow a bottle of pills. "I picked her off the kitchen floor and got her into an ambulance and to a Coney Island Hosptal where they pumpedher stomach. I didn't talk to her for a few months."
In 1966, Sedaka was dropped by RCA Records, lost confidence in Geenfield and began looking for new co-writers, Among them would be Carole Bayer and Toni Wine.
Except for an occasional tour,Sedaka quit performing and recording. Most of his income was the $30.000 a year he earned at Screen Gems as a staff writer.

Neil Sedaka today
Sedaka had a #1 record with "Bad Blood" in 1975, which featured John on backing vocals, a bluesy reworking of "Breaking Up is Hard to Do" (#8 1976) and "Love in the Shadows" (#16 1976). In 1980 Sedaka and his daughter Dara recorded "Should've Never Let You Go'" which reached #19 on the pop chart.