Ricky (Rick) Nelson

Ricky Nelson was the first rock star to be a true child of radio and television.


| | | |
| --- | --- | --- |
| Ozzie Nelson | Ozzie Nelson Orchestra | Harriet Hilliard |
His parents, Oswald George "Ozzie" Nelson and Harriet Hilliard were popular entertainers during the 1930s. Ozzie fronted a dance band and had a Number One hit in 1935 with "And Then Some." Harriet was a movie actress and became Ozzie's lead singer three years before she became his wife in 1935. Their marriage produced two sons, David born in Chicago on October 24, 1936 and Eric Hilliard (Ricky) born in Teaneck, New Jersey, on May 8, 1940. By the 1940s the big band era was changing. The best jazz virtuosos, were performing more frequently in concert settings as opposed to dance halls. Never a great instrumentalist, Ozzie continued to pursue a living in the old vaudeville fashion. Week after week he did one-nighters on the road while Harriet and the children remained at home in Tenafly, New Jersey.
The Nelsons, minus Ricky, moved to Hollywood in 1941 so that Ozzie could take the job of bandleader for Red Skelton's radio program. Ricky stayed in Tenafly with his grandmother.The Nelsons bought a fourteen room, two-story home at 1822 Camino Palmero that would remain their residence for the rest of their lives. Ricky joined the family in 1942.
In 1944 when Red Skelton left the radio show, Ozzie and Harriet were offered the program. The "Adventures Of Ozzie and Harriet" started slow, but gained momentum. The show centered around the real life personalities of the couple. Ozzie always seemed befuddled and out of sync with the happenings going around him and Harriet was the calm in the eye of the storm.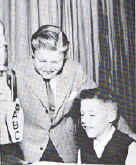 David and Ricky Nelson 1948
The characters of David and Ricky were present from the beginning. The first season they were only mentioned in passing and weren't part of the cast. When the time came to introduce the children, young actors were hired. David and Ricky pressured their parents to play them selves. During this time the show moved from CBS to NBC, and then to ABC.
On February 20, 1949, David and Ricky made their first appearance on the show in an episode called "Invitation To Dinner." David was described as down-to-earth, sincere, professional, quiet. Ricky is recalled as cocky, full of pranks, and insecure. Ricky was the natural born entertainer.
In 1950, ABC offered the Nelsons a television show based on the radio format. Ozzie decided to test the idea with a low budget movie. In 1951, "Here Comes The Nelsons" played in drive-in theaters and local theaters across the country. The movie earned moderate box office receipts, but proved the Nelsons were ready for their own television show.

Family pictures with a young Ricky and an older Rick
The Adventures of Ozzie and Harriet" moved to ABC-TV in the fall of 1952. The show ran fourteen seasons with four hundred an thirty five episodes.
During his childhood, Ricky suffered with asthma attacks, and grew up thin and sickly. However beginning with his 1952 television debut he went from a scrawny twelve year old prankster to a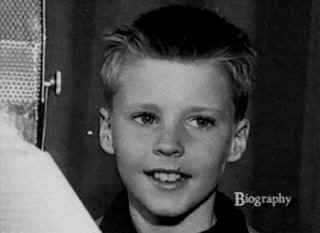 rakishly charming young man in 1956. A modest young man Ricky was remembered as quiet and well behaved at Bancroft Junior High. In 1954, he enrolled at Hollywood High School and was an average student. By this time, he was earning a $100,00 annual salary from the TV show.
In 1956, rock and roll was sweeping the country and old styles of music out of the way. Ricky was a member of the Rooks, a clique at Hollywood high that liked to cause trouble for authority figures. Ozzie and Harriet were as average as one could be and still be TV stars.. Ricky resented their life style and authority. In retaliation, he immerse himself into rock and roll music, the antithesis of Ozzie's smooth big band sound. He grew sideburns, slicked his hair back, wore shirts with the collars turned up and even tried to tattoo himself on the shoulder and wrist. Mostly, he played rock and roll music - loud.
Legend has it that Ricky was dating a beautiful teenager named Arlene. His natural insecurity made him certain Arlene was going to drop him at any minute, after all she was a year older than him. Their few dates were "cold." On what he was certain was going to be their last date, an Elvis song was playing on the car radio. Arlene swooned over Elvis. Ricky quickly said that he was about to make his own record. Arlene responded by laughing.
Ricky pleaded with Ozzie to help him make a record after all Ozzie had been a recording star in his own right. Ozzie finally agreed and through his connections Ricky became part of the entertainment at Knott's Berry Farm. Ricky acquitted himself very well.