Poni-Tails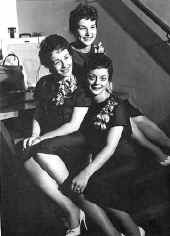 (L - R) LaVerne Novak, Tony Cistone, Patti McCabe
The wispy innocence of the Poni-Tails' harmony has been heard on oldies radio for over thirty years thanks to one timely hit "Born To Late." A record about an older boy, "Born To Late" is a rock and roll classic, a "girl group goldie," and round the world favorite.


Members:
Toni Cistone (Lead)
LaVerne Novak (High Harmony)
Karen Topinka (Low Harmony) replaced with Patti McCabe before the group switched to ABC-Paramount

The trio of Toni Cistone (lead vocals), LaVerne Novak (high harmony), and Karen Topinka (low harmony) were students at Brush High School in Lynhurst, Ohio near Cleveland, when they started singing together in 1956. They performed at school functions and benefits, and it was at one of these shows that they were spotted by an attorney, John Jewitt, who gave them an introduction to music publisher Tom Illius. Illius liked the soft style of the trio and their original song "Que La Bozena." Illius took them to the local Point Records, who issued their first single "Your Wild Heart" in January, 1957. Unfortunately, even innocent white girls were subjected to being covered. "Your Wild Heart" became a hit for Mercury artist Joy lane (#20) while the Version by the Poni-Tails, named for the hairstyle they wore at the time, became an instant collectible.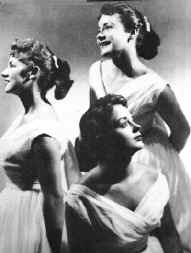 With Illius managing the group they had one more single with Marc Records "Can I Be Sure".
Tony and LaVerne auditioned for a replacement for Karen when her father made her leave the group. They came up with former Regina High student Patti McCabe.
Illius got ABC Records' Don Costa , later to produce/arrange for Paul Anka, Frankie Avalon, Dean Martin, Frank Sinatra and found DCP Records; interested in the group. ABC released "It's Just My Luck To Be 15" by the end of 1957. It quickly disappeared
.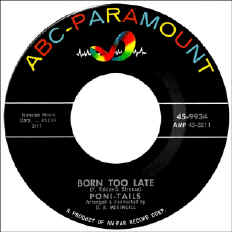 With a similar theme "Born To Late" made the Poni-Tails part of rock and roll history. It reached number seven on Billboard's Top 100 and number five in England. The group might have remained anonymous if ABC had had its way as they were promoting the other side "Come On Joey, Dance With Me". It was only after several Cleveland deejays pushed "Born To Late," the other side, that the record took off.
The model of what parents of the 50s considered to be "the safe look" appearances on Dick Clark's American Bandstand by the Poni-Tails further fostered that image.
For the next two years the Poni-Tails attempted to recapture the magic of "Born To Late". Despite its suggestive title "Seven Minutes To Heaven," their next single, only reached number 87 in December, 1958. Their last record to chart was "I'll Be Seeing You," a rockaballad that went down well at record hops as a "ladies choice" number, in late fall of 1959. "Who, When, and Why" was their last record in 1960.
ABC still wanted to renew their contract for another five years in 1960, but the Poni-Tails decided to call it a career and settle into family life.
"The three years were fun, but I just wanted to get out of the record business and get back to normal living
Toni Cistone
.In 1991 LaVerne (Novak) Glivic was working for a real estate agent in Menor, Ohio, and had five grandchildren. Toni (Cistone) Costabile was working at a high school in Shaker Heights, Ohio. Patti (McCabe) Barnes died of cancer in January, 1989. Tom Illius went on to become a top executive with the William Morris Agency in Los Angeles.