Sensations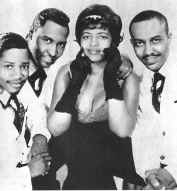 Richard Curtain, Alphonso Howell, Yvonne Baker and Sam Armstrong
The Sensations, a quartet from Philadelphia, PA, were one of the first groups of the rock and roll era with an all male background and a female lead.


The group formed in Philadelphia in 1954, with Yvonne Mills lead, Tommy Wicks tenor, Alphonso Howell bass, and one other forgotten member, and appeared in amateur shows as the Cavaliers. In 1955, the unique makeup of the group caught the attention of Atlantic Records and the Sensations began a three year association with Atlantic's Atco subsidiary. The first two singles by the Sensations were old standards that were given major musical overhaul.
In November, 1955 the Sensations first single "Yes Sir, That's My Baby" was released and by February 18, 1956 it had reached #15 on the R&B charts. On November 17, 1955 they appeared at Philadelphia Town Hall with Ray Charles.
The follow up to "Ain't She Sweet" was released on April 14, 1956 reaching #13 R&B in May. These were followed by "My Heart Cries For You," "Little Wallflower," "Kiddy Car Love,"and "My Debut To Love." When the Atco contract expired Yvonne retired to marry (Yvonne Baker) and raise a family.
In 1961, Howell feeling that vocal groups were once again in demand convinced Baker to re-form the Sensations. Tenor Richard Curtain and baritone Sam Armstrong were added, and the group convinced local Philadelphia disc jockey Kae Williams to manage them. William's arranged a record deal with Chess Record's Argo subsidiary. The Sensations recorded "Music, Music, Music" which reached #54 Pop and #12 R&B in the summer of 1961. It was their first R&B hit in five years and first Pop hit ever.
In the winter of 1961, the Sensations came out with the Baker written "Let Me In." "Let Me In" became their biggest hit reaching #2 Pop and #2 R&B in early 1962.
As so often happens after a major hit, the Sensations couldn't record any follow up hits to sustain their momentum. "That's My Desire" made it to #69 in 1962 and there were two more Argo releases along with several on William's own Junior label. But nothing could bring the group back. Yvonne Baker latter attempted a solo career.