Shirley Gunter and the Queens

Clockwise from top left)
Blondean Taylor, Lula Mae Suggs, Lula Kinney (Piper Alvez) and Shirley Gunter

The Queens are sometimes called the first all-female vocal group to emerge during the early R&B transition to rock and roll. Though they only recorded for a short time, Shirley Gunter and the Queens influence was far reaching.


Members:
Shirley Gunter (Lead)
Lula B. Kenney (Soprano)
Lula Mae Suggs (Middle Harmony)
Blondene Taylor (Alto)

Originally called the Four Queens, the group was organized by classmates and friends from Los Angeles Polytechnic High School in 1953. The group consisted originally of Shirley Gunter (lead), Lula Bee Kinney (1st tenor), Lula Mae Suggs (2nd tenor) and Blondean (Zola) Taylor (baritone). Zola Taylor of the Platters spent some time in the group though she performed on none of the recordings.
Shirley Gunter was born in 1934 in Coffeyville, Kansas, and migrated to Los Angeles with her family in early 1942. There her mother taught scholl and had a radio show. She began her singing career as a solo artist in 1953 when her older brother, Cornelius, a member of a vocal group called The Flairs, took her to his label, Flair Records, a subsidiary of Modern Records.
After her first two singles, Shirley put together her own group called The Four Queens in 1954 with high soprano Lula B. Kenney, Lula's Aunt Lula Mae Suggs (middle harmony) and alto Blondene Taylor, Shirley's best friend at Polytechnic High School. One day the four girls were fooling around on the piano in Shirley's living room when they came up with a "Sh-Boom"-like ditty with nonsense lyrics called "Oop Shoop." When they took it to saxophonist Maxwell Davis, Shirley's mentor at Flair Records, he helped them work up a more polished arrangement.
Label chief Joe Bihari liked what he heard, changed their name to Shirley Gunter & The Queens, and released "Oop Shoop" in August 1954. Within two months it entered the R&B charts and rose to number eight, but before the record had a chance to cross over into pop territory, The Crew-Cuts, who had already had a major hit by covering "Sh-Boom" for Mercury Records, gave "Oop Shoop" the same treatment.
Bandleader Spike Jones' wife, Helen Greco, also recorded it (on RCA's X label), along with The Hamilton Sisters (Columbia), Big John & His Buzzards (Okeh) and Kay Brown (on Crown, another Modern Records subsidiary ). After only eighteen months with four singles and a couple of tours the group broke up in 1956.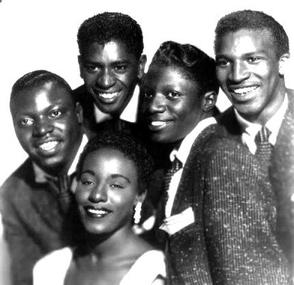 Shirley then joined her brother Cornell in the Flairs. There she recorded "How Can I Tell You" /"Ipsy Oopsy Ooh" which many consider to be her finest songs. After leaving modern Gunter recorded only occasionally and without much success. Her last known recording was for Ray Charles' Tangerine Records in 1969.
Shirley Gunter currently lives in Las Vegas, Nevada. Both Blondean Taylor and Lula Mae Suggs have passed away. Piper Alvez continued in show business becoming one of the first black dancers and showgirls to work in Las Vegas. She currently lives in Los Angeles.