Stax in 1960s
With the success of Booker T. and the MG's, Carla Thomas, The Mar-Keys, Bar-Kays and Otis Redding, Stax studios became a magnet for other acts. Atlantic Records brought in two of their recording acts, the duo Sam and Dave and Wilson Pickett, to Memphis to record at the Stax studio. Stax Records itself had added William Bell, Eddie Floyd, the Mad-Lads and a top notch producing and song writing duo named Isaac Hayes and David Porter. In 1965 Stewart hired a very successful black Washington DC disc jockey named Al Bell as national sales director. From the beginning, Al Bell took over the effective leadership of the company and greatly expanded it's roster of artists.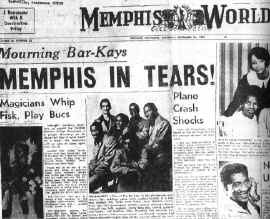 On December 10, 1967, Otis Redding was killed in a plane crash and had his biggest hit, "(Sittin' On) The Dock of the Bay," posthumously. Shortly after losing their most important artist, the distribution deal Stax had with Atlantic was to expire and had to be renegotiated. To the horror of Jim Stewart, he found out that the original contract had given Atlantic the ownership of all of the Stax masters. Atlantic owned the entire Stax catalog! The negotiations dragged on for several months, but Stax had no leverage, since Atlantic already owned their catalog. Instead of giving up and signing with Atlantic, Stewart sold the company in May 1968 to Gulf and Western for several million dollars. The most successful act on Stax/Volt other than Otis Redding was Sam and Dave, even though Sam and Dave's material was being released on Stax, their contract was with Atlantic so they were no longer on Stax.
| | | |
| --- | --- | --- |
| Al Bell and Johnnie Taylor | William Bell | Isaac Hayes (R) with co producer Dave Porter |
Even with the loss of Otis Redding and Sam and Dave, the company did very well without Atlantic. They had additional hits by Booker T. and the MG'S, Johnnie Taylor, and William Bell. Stax had formed a subsidiary label called Enterprise in 1967 and released an album by one of their producers named Isaac Hayes called "Presenting Isaac Hayes" but it was not very successful. After the break with Atlantic, Hayes made another album called Hot Buttered Soul and it went triple platinum.
The sale of Atlantic to Warner Brothers- Seven Arts triggered a clause in the distribution agreement between the two companies. calling for renegotiations. At this time Stax discovered that the old deal had given Atlantic ownership of all Stax records it had distributed. Atlantic's new owners refused to renegotiate, so the distirbution deal was ended in May 1968.


Al Bell and Jimmy Stewart
In 1970, Bell and Stewart borrowed money Deutsche Gramophone to repurchase Stax from Gulf & Western and worked out a new distribution agreement with Columbia Records. For two years Bell and Stewart were equal partners till Bell bought out Stewart who stayed on as chief executive
After a couple of years, sales were down and there were internal troubles at Stax. External pressure was coming from Gulf and Western who really didn't have a clue about the creative aspects of a record company. Jim Stewart thought he could rescue the company so he and Al Bell repurchased the company from Gulf and Western in July 1970. At this point, the numbering system changed again. Soon the company was challenging Motown for the lead in black album sales, with new artists such as the Soul Children, the Staple Singers, Frederick Knight, Jean Knight, Rance Allen, Mel and Tim and the Emotions. Richard Pryor was signed to the company and had a giant debut album called "That Nigger's Crazy" on Partee, the comedy subsidiary. Other new subsidiary labels were also formed including Gospel Truth, Hip and Respect.
| | |
| --- | --- |
| Stax just before it was torn down | |
| | |
| --- | --- |
| Ben Cauley playing at 1991 marker dedication | Historic marker where Stax stood |
In 1972, Al Bell made a deal with Columbia Records for the distribution of Stax product. Columbia gave Stax a six million dollar loan for expansion. In October of 1972, Al Bell used the money to buy out Jim Stewart. Even though he no longer owned the company, Stewart agreed to stay on as president for up to 5 years, but Al Bell ran the company. The handshake deal between Al Bell and Clive Davis, president of Columbia Records called for Columbia to pay Stax for every record it delivered, irrespective of sales, an unheard of agreement. In 1973, Clive Davis was fired and Columbia altered the deal, cutting the payments to Stax by 40%. This led to the financial decline of the label and in January 1975, Stax was unable to meet it's payroll and a bankruptcy judge ordered it's closing on January 12, 1976.
In the final years under Al Bell the company engaged in financial speculation and became politicized by the demands of black activists. Though no longer an owner, Stewart stayed on as president.Stewart and Bell had conflicting visions. Stewart saw it label that celebrated the black experience while Bell saw it as company to further black economic and political interests.
During these years Stax was financing its various ventures through Union Planters Bank of Memphis reportedly to the tune of $18 million.
In June of 1973 federal prosecutors in Newark, New Jersey, convened a grand jury to hear evidence of possible kickbacks and tax violations in the music industry. Subpoenas were issued to eight companies of which Stax was one. The Associated Press reported that information at the hearing indicated Stax lost $406,000 in 1971 because of an alleged scheme in which two vice presidents were in involved in kickbacks with Stax distributors.
At year's end a federal grand jury was convened in Memphis to look into Stax.. Stewart and bell were told to turn over records to the grand jury. That same year, the I.R.S. began reviewing the company's tax returns. A $1.8 million tax lien was placed on Baylor's holding. The result was Baylor's leaving Memphis for Birmingham. At the Memphis airport as part of security his brief case was searched and founded to contain $130,000 in cash and $500,00. Allowed to board the plane he was detained by federal agents in Birmingham. Stewart would tell the agents that the money was Baylor's and no charges were filed. However the I.R.S. kept the money since it had a lien against Baylor.
The federal probe In New Jersey resulted in no indicted against Stax officials, but their were now problems with the CBS distribution agreement. In bad economic shape Stewart reinvested his money into Stax.
As 1975 drew to an end, a group of Chicago businessmen approached Stax about moving the company to Chicago or Gary, Indiana.
At this time Union Planters began asking for payment of the $10 million in money owed to it. In September 1975, Bell and Joseph Harwell, a loan officer at United Planters, were indicted on charges of fraud in connection $18 million in fraudulent bank loans. Harwell pled guilty and was sentenced to five years in prison. Bell accused the bank of racism and two nationwide defense funds were set up by nationwide civil rights groups
Eventually three creditors file an involuntary petition against Stax. after evidence was presented the judge signed the order closing Stax.
| | |
| --- | --- |
| Estelle Axton -1968 | Jimmy Stewart 1972 |
The Stax masters prior to 1968 are owned by Atlantic Records, but the Stax masters produced after the split with Atlantic are now owned by Fantasy Records of San Francisco.
Jim Stewart was inducted into the Rock and Roll Hall of Fame in 2002

Some photos courtesy of The Stax Site
Save America's Treasures: Stax Records