Tammi Terrell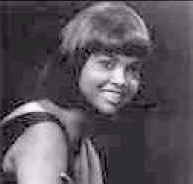 Although Tammi Terrell began recording in 1961, her solo recordings were eclipsed by her immortal ballads with Marvin Gaye.


Tammi Terrell was born Thomasina Montgomery on January 24, 1946 in Philadelphia, Pennsylvania. Terrell became involved in show business at an early age, but nearly gave it up to pursue her education She was discovered at a talent show when she was fifteen by Luther Dixon. This led to her first record "If You See Bill' for Scepter Records in 1961. The next year she recorded "The Voice of Experience" After studying psychology at the University of Pennsylvania, she recorded "I Cried" for James Brown's label. Shortly thereafter, she joined his revue and began a stormy relationship with Brown. Around 1964 she left Brown, married, and divorced, recorded briefly for Checker, then signed with Motown Records.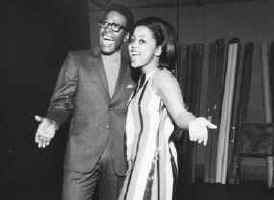 Marvin Gaye and Tammi Terrell
Towards the end of 1965 Terrell's "I Can't Believe You Love Me" made the R&B Top Thirty. After its follow-up " Come On and See Me" failed, she was paired with Marvin Gaye for a series of Ashford and Simpson duets: In 1967 "Ain't No Mountain High Enough" (#19 pop, #3 R&B), and "Your Precious Love" (#5 pop, #2 R&B); in 1968 "Ain't Nothing Like the Real Thing" (#8 pop, #1 R&B), "All I Need to Get By" (#7 pop, #! R&B), and "Keep On Lovin' Me Honey" (#24 pop, #11 R&B); in 1969 "Good Lovin' Ain't Easy To Come By" (#30 pop, #11 R&B and "What You Gave Me" (#6 R&B). "If I Could Build My Whole World Around You" (#10 pop, #27 R&B) was also released in 1967.
Terrell and Gaye, widely assumed to be lovers weren't. Gaye was married to Anna Gordy, Berry Gordy's sister, and Terrell was romantically involved with Temptation David Ruffin. Gaye, however, felt especially protective toward Terrell and was deeply affected when she collapsed in his arms during a stage show in Virginia in 1967. Terrell had long complained of severe migraine headaches, a following her collapse a brain tumor was discovered. Terrell retired from the road. Despite eight operations over the next year and a half she continued to record with Gaye. Late in his life, Gaye revealed that it was not Terrell, but Valerie Simpson on most of the Easy album that Terrell had recorded with Gaye.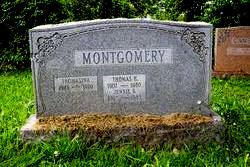 In early 1971 complications from brain cancer saw Terell in a wheelchair, experiencing blindnes and hair loss, and weighning 93 pounds. After her eighth and final operation on January 21, 1970 she went into a coma. Tammi Terrell died on March 16, 1970 in Philadelphia, Pennsylvania.