Top Forty Format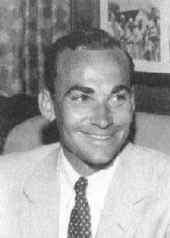 Todd Storz was the inventor of the format, at his radio station KOWH in Omaha, Nebraska. Storz invented the format in the early 1950s, using the number of times a record was played on jukeboxes to compose a weekly list for broadcast.


To limit payola and reduce the power of the disk jockeys, many stations adopted the Top Forty Format. Introduced by Todd Storz at KOWH in Omaha and then WTIX in new Orleans, Top Forty limited the disk jockeys to the songs on the Billboard charts, with only a few slots for new releases and personal preferences. This format relied much less on discretion and the personality of the disk jockey. Top Forty quickly became popular because many listeners liked to hear their favorite songs played over and over. A top forty program style, with a playlists limited to mainstream singles, interrupted by station identification, news broadcasts and commercials was quickly adopted through the United States.
Top Forty format left less room for disk. jockeys as they did not choose what was played.
After WW II, Todd Storz started his radio career in Hutchinson, Kansas, then worked as a disk jockey in Omaha. With his father, Storz bought radio station KOWH, along with an FM station, for $75,000 in 1949. Storz paid $20,000, his father Robert $30,000; and rest was from loans.
By 1956, Storz's Mid-Continental Broadcasting Company bought four other stations; Kansas City ($400,00), WTIX, in WHB, in New Orleans ($25,000), Minneapolis WDGY in ($334,000) and WQAM in Miami ($850.000)
It was here that he would devise the Top Forty format.
Almost every newscast opened opened with a local story. Storz started the news tip, where listeners got paid for solid news tips which resulted in 6-8 stories a day and set KOWH apart from the other stations. He also started contests and other giveaways that built audiences. Storz greatest innovation was in the music played. As a G.I., Storz noticed that restaurant patrons played the same songs on the jukebox over and over. The waitress at the end of her shift, the waitress would play the same songs. So Storz thought why not give people what they wanted, top forty was born. KWOH disk jockeys had great leeway in developing their on-air personalities, but with playing music they had little choice. Top Forty playlists meant playing the same song at about the same time each day. There were some slots for past hits and songs disk jockeys that could become hits. As Storz built his Mid-Continent Broadcasting Company by buying stations in Kansas City, New Orleans, Minneapolis and Miami he tested this format there. His stations soon climbed to the top. Other stations noticed and adopted their the Top Forty format. Disk jockeys hated this format as it limited their freedom of selection.
In 1957 Storz told Television magazine "I became convinced that people demanded their favorites over and over while in the army during the Second World War. I remember vividly what used to happen in restaurants in the States. The customer would throw their nickels into the juke box and come up repeatedly with the same tune. Lets say it was The Music Goes Round and Round. After they all gone, the waitress would put her own money into the juke box. after eight hours of listening to the same number, what number would she select? Something she hadn't heard all day? No invariably she'd pick The Music Goes Round and Round. Why this should be, I don't know but I saw waitresses do this time after time."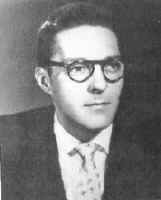 Bill Stewart worked for both Todd Storz and Gordon McLendon
With Storz's blessings program director Bill Stewart applied the jukebox theory to KOWH. Stewart stopped playing classical, country and other programs the station had been airing and focused on pop tunes. The ratings soared. The success was also propelled by contests and promotion dreamed up by Storz. In the beginning what became the Top 40 had little to do with teens and pop music. It was simply disk jockeys following a playlist, doing what would be called "formula radio."
Storz was just thirty-nine when he suffered a fatal stroke in 1964.
In 1989, Todd Storz was inducted into the Nebraska Broadcasters Association Hall of Fame.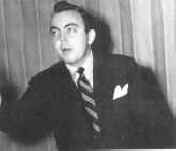 Gordon McLendon is widely credited for perfecting, during the 1950s and 1960s, the commercially successful Top 40 radio format created by Todd Storz

McLendon's work on top 40 radio secured his permanent position among the radio industry giants.
McLendon and his father Robert, a real estate magnate, helped him buy his first radio station KLIF in Oak Cliff, Dallas, Texas in 1946. McLendon's father would work with him in what would become McLendon Corporation handling business details.
McLendon introduced the Top 40 format there in the early 1950s to great success. KLIF enjoyed a long run at the top of the Dallas radio ratings in the 1950s and 1960s, but its standing in the market fell in the early 1970s thanks to growing competition from FM radio. One of the FM stations most instrumental in the downfall of KLIF was its former sister station KNUS (now KLUV), of which McLendon retained ownership after selling KLIF and revamped as a rock-oriented Top 40.
"The music and news format we use is much like soap. we can buy the records, play them on the same type of turntable, and we can hire someone to talk. the difference in radio is like the difference in soap - it depends on who puts on the best wrapper."
Gordon McLendon
Aggressive, high quality local news coverage and the placement of newscast at twenty minutes past or before the hour, to counter those stations that put their news at the hour and half hour. McLendon came up with these concepts at KLIF in the late fifties
The McLendon family built a communications empire McLendon Corporation that included radio stations across the United States. In addition to KLIF, McLendon owned KNUS–FM in Dallas, KOST in Los Angeles, WYNR and WNUS-FM in Chicago, WWWW–FM in Detroit, KEEL in Shreveport, WAKY in Louisville, KABL in Oakland, KABL–FM in San Francisco, KILT in Houston, KTSA in San Antonio, and KELP in El Paso. McLendon introduced the all-news format to Southern California through XETRA in Tijuana. McLendon was one of the originators of the "beautiful music" format on his KABL in Oakland, California in 1959; and as the founder of the first all-news radio station (WNUS in Chicago) in the 1960s.

He is credited by most broadcast historians with having established the first mobile news units in American radio, the first traffic reports, the first jingles, the first all-news radio station, and the first "easy-listening" programming. He also was among the first broadcasters in the United States to editorialize.

The McLendon family sold KLIF in 1971 to Fairchild Industries of Germantown, Maryland, for $10.5 million, then a record price for a radio station. By 1979 the family had sold all of its broadcasting properties, including fourteen radio and two television stations, worth approximately $100 million. By 1985 Forbes magazine estimated McLendon's net worth at $200 million.