Velvelettes


Left to right circa 1964: Carolyn Gill, Norma Barbee, Mille Gil, Bertha Barbee
The Velvelettes are one of three all original Motown groups from the late 1960's and one of the few "Girl Groups" still performing today with only original members.


Members:
(1962-1964)
Carolyn Gill - lead
Mildred (Millie) Gill
Norma Barbee
Bertha Barbee

(1964-1966)
Carolyn Gill
Millie Gill
Norma Barbee


(1966-1969)
Carolyn Gill
Millie Gill
Anette Rogers (MacMillian)

The Velvelettes consisted of two cousins, two sisters and a best friend. Cousins Bertha Barbee and Norma Barbee were born in Shannon, Mississippi and raised in Flint, Michigan. Lead singer Carolyn Gill and her older sister Mildred Gill lived in Kalamazoo, Michigan. Betty Kelley was Carolyn's best friend.
The Barbees had already form a vocal group the Barbees and had sung together for a number of years and even started wearing matching outfits. Bertha and Norma had already been on a record as background singers for their uncle, Simon Barbee. Mickey Stevenson produced the record which was "The Wind"/"Que Pasa" with both being written by their uncle. This was to be their only single and was released on the tiny Stepp label in 1957.
The group broke up and Bertha enrolled as music majors at Western Michigan University in Michigan. After an impromptu session around a baby grand piano in the student center they formed a group consisting of about twelve girls.. They sang around the campus at socks for a few months before deciding to enter a talent show at Alpha Phi Alpha fraternity with a $25 first prize. It was at this time that Mildred and Bertha decided to let all the girls go and replace them with Bertha's sister Norma and best friend Betty Kelley and Gill's older sister Carolyn. After some practice the girls entered the contest and finished first winning the $25.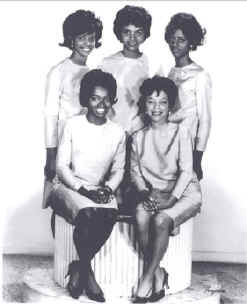 1963 (clockwise from top left) Mildred Gill, Bertha Barbee, Carolyn Gill, Norma Barbee, Betty Kelly
It was during one night while singing in the car that the girls came up with a name for the group. One of the girls said the harmony "sounds real smooth." Then another said "Yeah. smooth like velvet." Somebody said "Velvet -Vevelettes" and that was how the name was born.
The Velvelettes got their break in the spring of 1962 when fellow Western Michigan student Robert Bullock was at the talent show. Bullock who just happened to be Berry Gordy's nephew, introduced himself and invited them to audition for Motown. One Saturday Carolyn's father loaded the girls into his car, drove three or four hours in snowstorm to Motown's office where they were greeted by a less than friendly secretary. After telling her they were here to audition.they asked where they were from. Told Kalamazoo she made a funny face, saying Kalama-who? and then informed the girls that there were no auditions on Saturday. As they were leaving with tears in their eyes out walked Mickey Stevenson. Stevenson recognized them and granted them an audition. Gordy was significantly impressed enough to sign the Velvelettes to a contract with Motown with the understanding that the girls were to be allowed to remain in school. Prior to that signing Betty Kelly replaced Annette Sterling in the Vandellas with whom she would perform for years. After Kelly's departure the Velvelettes would forever remain as four Velvelettes.

The Velvelettes 1961 - Left to right: Mildred Gill, Norma Barbee,
Carolyn Gill, Betty Kelley and Bertha Barbee
Signed to the Motown subsidiary V.I.P., the Velvelettes had the label's first chart hit "Needle In A Haystack" which went to #1. The tune was a collaboration between A&R head Mickey Stevenson and young producer Norman Whitfield, a combo which would provide the Velvelettes with another hit with "He Was Really Saying Something. "
"The group did not like the tune at first because it just sound kind of corny to us. Our writer and producer Norman Whitfield had great confidence in us though and his perception that it was a hit was accurate"......Carolyn Gill

Promotional Picture - Carolyn Gill center
The girls were somewhat invisible at Motown. Not only was Kalamazoo worlds apart from Detroit, their parents required them to get a college diploma and did not allow them to tour with the early Motor Town Revue until after graduation. They did tour in 1964 as an opening act for the Temptations and later with The Dick Clark Caravan of Stars. There was never a Velvelette album.
"I do feel that the songs were promoted more than the groups initially. Motown was product oriented and primarily interested in the results rather than the vehicle used to accomplish those results. It wasn't until the public became curious about the artist and that color was no longer a issue, that Motown got behind the artists themselves."
Carolyn Gill

"The Velvelettes were not as hungry for stardom as the other girl groups. We came from reasonably secure backgrounds and our parents were considered to be middle class blacks. So our appetite to be "stars" and make a lot of money was not as intense as other girl groups at Motown"..... Carolynn Gill
The Velvelettes continued to record and perform until 1972, then all the members except Gill decided to devote full time to raising their families. Three replacements were brought in, with Gill continuing as the lead singer. After a number of years of performing, the new group simply disbanded. Later the original members would reform and the group continues to perform to this day.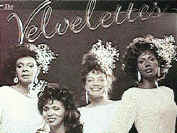 The Velvelettes celebrated their 30th Anniversary in 1991 with performance and gala affair in Canada. Since their reunion they have performed in Europe, throughout Canada, the Detroit area, and other parts of Michigan. The group has performed the National Anthem at Tiger Stadium in Detroit, and at the Palace in Auburn Hills for the Pistons opening season game. Other performances have included the Annual Crim Road Race held in Flint, appearances on a local Detroit area talk show, a trip to Japan and a European tour with Supremes and Miracles. In April 1993 the group performed on the Montel Williams Road Show in Detroit at the Fox Theater with the Contours. They dazzled the audience with a Motown medley of hits, and the impressive choreography that is a trademark of all Motown acts. They have also performed at the Rock 'N' Roll Hall of Fame in Cleveland later this month.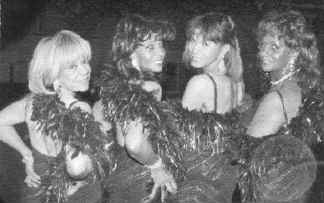 2013 (L-R) Norma Barbee, Mildred Gill, Bertha Barbee, Carolyn Gill
photo courtesy Bertha Barbee
Today Norma Barbee-Fairhurst and her cousin, Bertha Barbee-McNeal Live in Flint; while Mildred Gill-Arbor and her sister,l Carolyn Gill-Street live in Kalamazoo. All are divorced and have maintained second careers that have kept their lives busy, stable, and secure through the ups and downs of the entertainment industry. Carolyn is currently a school teacher in her hometown. Formerly married to Richard Street of the Temptations and she is lead singer of the Velvelettes. Mildred is a Registered Nurse, and a college instructor. Berthas holds a Doctorate in Education and teaches in the Flint Public School System. Norma is Director of Sales for a major hotel chain. All are very active in community volunteerism, participating in civic activities and helping to promote positive development and the betterment of their cities and neighborhoods.
Bertha Barbee died in Kalamazoo, Michigan December 15, 2022 of colon cancer at the age of 82.