The Vernon Girls

You won't find the Vernons Girls listed in most girl-group registers, mostly because they were British, and weren't so much a group as a corporate-sponsored entity that happened to do girl group type songs.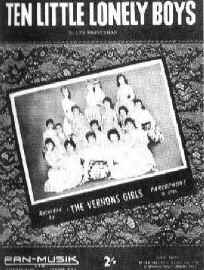 The Vernon Girls origins go back to early 1950's England, which was then very much an economic backwater.The Vernon Girls were from Liverpool where they worked as clerical staff at Vernon's Football Pools.
Vernons Football Pools reasoned that the company could get exposure by organizing a girls choir to perform in various venues, prominently displaying the Vernons name. It wasn't a terribly good idea, but it did find a venue for exposure in the mid-1950's as British popular entertainment slowly made room for a budding youth culture, oriented toward skiffle music and young vocalists (including Cleo Laine and Petula Clark).
With the advent of Jack Goode's (Goode would later produce Shindig in the USA) Oh Boy! and Boy Meets Girl on British television in 1956 and 1958, respectively, the Vernons Girls, now more of a group than a choir, became regular back-up singers, and even got a contract from EMI's Parlophone label. They still didn't sound very distinctive, however, until the end of the 1950's when the Vernons Girls became a trio and began aiming for the youth market. The original line-up was Maureen Kennedy, Jean Owen, and Frances Lee, with Lyn Cornell coming in as a replacement, and Joyce Barker (future wife of Marty Wilde) passing through. They didn't succeed in charting records until 1962 and 1963, when they were signed to Decca. Their cover of the Drifters' "Lover Please" sold well enough to bother the compilers for nine weeks, and the Liverpool-style "You Know What I Mean" rode the top-seller lists two separate times in 1962. Three more became well known on TV in the 60s as the Breakaways.
| | |
| --- | --- |
| The Breakaways | The Ladybirds |
Maggie Stedder and Gloria George formed the Ladybirds who sang back-ups on Top of the Pops.
Unfortunately, like a lot of English acts that really didn't control their repertory or their direction, the Vernons Girls were at the mercy of producers who didn't always see the direction the public's taste was taking (if they did, they'd all have been rich and not working). So their competent cover of "The Locomotion" was followed by a very, very dopey sounding variation on Bizet called "Dat's Love," and several sub-Connie Francis-style teen pop efforts. There was no consistency, and certainly no thought given to what was happening to music around them. By the end of 1963, when they were doing songs like "We Love The Beatles," the Vernons Girls were quaintly anachronistic holdovers from a pop-music world whose landscape was already being shaken seismically by the Beatles et al. They tried hard with "Do The Bird," which had a hard-rocking beat and what could pass for a soulful sound, especially the lead singing, but it barely registered on the charts. An almost equally deserving record, "I'm Let My Hair Down," disappeared without a trace. And then their next single was an annoying novelty number called "Mama Doesn't Know"-with repertory like that, they were doomed, even as they tried various new sounds, even opting for something akin to Dusty Springfield's wall-of-sound accompaniment. The sheer inconsistency of their records probably contributed to their eventual demise. The Vernons Girls vanished in 1964, although their ex-members remained in the business, singing in various vocal groups that continued to grace other artists' records for years. Some older British listeners retain a fondness for the group, however, and the best of their records remain listenable and enjoyable 40 years later.
Though the Vernon Girls were part of the British pop throughout the 60s backing all the major singers that came to town, they are pretty much a footnote to history as a girl group in their own right.