Surf Vocal Groups
Beach Boys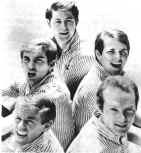 Clockwise from bottom left: Al Jardine, Dennis Wilson, Brian Wilson, Carl Wilson, Mike Love
An American musical institution, the Beach Boys parlayed a repertoire of songs about surfing, cars, and girls into the basis for one of the country's longest lasting success stories.


Members:
Mike Love - vocals
Brian Wilson - keyboard and bass guitar
Carl Wilson - guitar
Al Jardine - rhythm guitar - replaced by David Marks - replaced by Al Jardine
Dennis Wilson - drums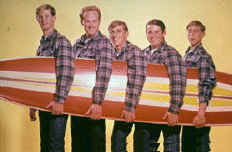 L to R: Brian Wilson, Mike Love, Dennis Wilson, Carl Wilson, David Marks
Formed in Hawthorne, California in 1961, the group included brothers Brian, Dennis, and Carl Wilson, their cousin Mike Love, and friend Al Jardine. Mike sang most of the leads while Brian led on some of the vocals.
The group began as Kenny and the Cadets, Carl and the Passions, and finally the Pendletones. Brian a fan of the Four Freshman, began teaching the others intricate Freshman styled harmonies. Murray Wilson, the father of the brothers and a songwriter, took the boys to his publisher Hite Morgan who in turn took the to Keen Recording Studios. Dennis the only member of the group who surfed thought that it would be a good subject for a song and suggested it to Brian. Brian then wrote "Surfin" and with Mike wrote "Surfin' Safari," songs they made into demos in 1961.
Murray took the demos to Herb Newman, who owned Candix and Era Records. On December eighth Newman signed the group. Ross Regan, Era's promotion man, suggested they change their name to the Beach Boys. In December 1961 "Surfin' was issued on X Records as a promo and Candix.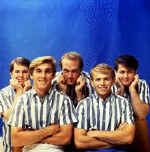 On February 17, 1962, "Surfin" hit the national pop charts, reaching #75.. On New Year's eve the group performed at its first important show as the Beach Boys at the Long Beach Municipal Stadium in a memorial concert for Ritchie Valens. They were paid three hundred dollars.
In February 1962 Jardine left to study dentistry. On February 8th, Brian, Dennis, and Val Poliuto of the Jaguars recorded six songs for Hite Morgan's Deck Records. In May Candix went out of business and Murray Wilson, now the groups manager, began taking their demos around. Several labels passed on the group, but Capitol's Nick Venet liked the demo of "Surfin' Surfari" and signed the group in June. a master of "Surfin' Safari" was recorded with new member David marks, who had replaced Jardine. On August 11, 1962 "Surfin' Surfari" reached #14 and the flip side "409" charted at #76.
In early 1963 Jardine returned and Marks his replacement left.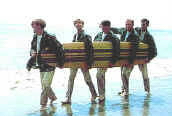 "Surfin' Safari" marked the beginning of the unique harmonies the group would become known for. This was a new style of rock and roll with Chuck Berry rhythms and Four Freshman harmony. "Surfin' U.S.A.," written by Brian Wilson and Mike Love, was so close to Berry's "Sweet Little Sixteen" that his threat of a lawsuit got him sole writing credits. By May 25th it had reached number three in the U.S.A.; it went on to reach number thirty-two in England and number nine in Australia. The flip side, a hotrod song, "Shutdown," reached number twenty-three.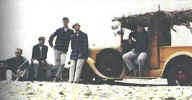 The next surfing/drag racing two sider was the groups' first ballad "Surfer Girl" (#7 Pop, #18 R&B), along with Little Deuce Coupe" (#15 Pop).

The Beach Boys "Surfin' U.S.A." went all the way to number two, denied the top spot by Jan and Dean's "Surf City," written by their friend Brian Wilson. the group's popularity was such that two Brian Wilson produced albums, released almost simultaneous, hit the top ten; Surfer Girl (#70) and Little Deuce Coupe (#4).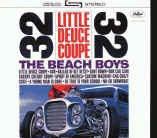 The Beach Boy's next single, "Be True to Your School" reached number six on December 21, 1963. The flip side "In My Room" went to number twenty-three.
One of their best rocker's "Fun, Fun, Fun," with Mike Love on lead and a Chuck Berry intro, reached number five on March 21, 1964.

The first number one came next as "I Get Around," with Love again on the lead, hit the top spot in early June 1964. More hits followed in 1964 with "When I Grow Up" (#9) and "Dance, Dance, Dance" with Brian on the lead (#8).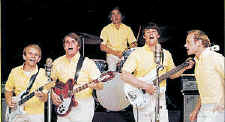 Conducting their first major U.S. tour in September, 1964, The Beach Boys Concert album, recorded in Sacramento, California , became the first live album to top the charts. However, on December 23, while on a plane trip from Houston to Los Angeles, Brian had a nervous breakdown brought on by an overwhelming schedule of writing, producing, recording, and touring. Brian stopped touring with the band and guitarist/singer Glenn Campbell was brought in to perform for him on the road, who was replaced by Bruce Johnston in April, 1965.
In 1965 the Beach Boys did a remake of Bobby Freeman's hit "Do You Wanna Dance" with Dennis Wilson on lead, it went to number twelve. By April Bruce Johnson of the Ripchords, had replaced Campbell.
In the spring of 1965 "Help Me Rhonda" became the groups second number one pushing the Beatles "Ticket to Ride" out of the top spot.
Despite a hearing lose in his right ear, Brian continued to write and produce vocal harmony hits. One of them "California Girls" had a memorable keyboard intro and with Love on lead reached number three on August 28, 1965. Then "Barbara Ann" soared to number two nationally with Dean Torrance of Jan and Dean on lead.