The Blossoms

Blossoms (1955-58)
(clockwise top left) Fanita James, Gloria Jones,
Annette Williams, Nanette Williams


Blossoms (!958-1960)
(clockwise top left) Darlene Wright, Gloria Jones,
Gloria Jones, Annette Williams


Blossoms (1961-1963)
From top: Jean King, Fanita James, Darlene Wright

The Blossoms were probably the most successful unknown group of the '60s. They made a career of singing backup for scores of artists from Paul Anka to Elvis Presley with a versatility that allowed them to be a choral group one minute and a surf sound doo wop group for Jan and Dean's hits the next minute.


Members:
(1955- 58) Fanita (Barret) James - 1st Tenor
Gloria Jones - Baritone
Annette Williams - 1st Tenor
Nanette Williams - 2nd Tenor

(1958-1960) Fanita James
Gloria Jones
Annette Williams
Darlene Wright


(1961-1963) Fanita James
Gloria Jones
Darlene Wright (Love)



(1963-64) Fanita James
Darlene Love
Gracia Nitzsche

(1964- 75) Fanita James
Darlene Love
Jean King

(1975-80) Fanita James
Alex Brown
Jean King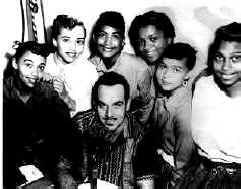 The Dreamers with Johnny Otis
(L-R) Annette Williams, Nanette Williams, Fanita Barrett, Gloria Jones, Pat Howard, Jewel Cobbs
Starting out as the Dreamers, the Blossoms were students at Fremont High School in Los Angeles in 1954 and were discovered by singer Richard Berry at a school talent show. At that time the group consisted of Fanita James, sisters Annette and Nanette Williams, and Gloria Jones. They backed Richard Berry on several of his singles that were recorded in 1954 and released in 1955 on the Flair label. All three of the releases received local air play, but only "Bye, Bye" sold, and made the national R&B charts. By late 1956 the Dreamers had their first chance to record on their own. The results were two beautiful R&B ballads. "Since You've Been Gone" and "Do Not Forget," both written by Richard Berry and are recognized as forerunners of the girl group sound.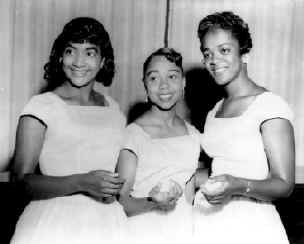 The Rollettes
(L-R) Fanita James, Annette Williams, Gloria Jones
Gloria, Anntte and Fanita recorded two singles for Class Records as the Rollettes 1956. Recording under assumed names was to become the group's way of life.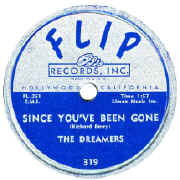 "Since You've Been Gone" never got the full support that tiny Flip Records had to offer; the reason being that the label had its hands full following the success of the Six Teens' "A Casual Look" with their new release "Far into the Night." They were also preparing a recording by Richard Berry and his new group the Pharaohs "Louie, Louie."
Though their records weren't hits, the Dreamers stirred interest from numerous places in the music business, garnering the group a great deal of backup work. Their first chart record came as backup vocalists with Jessie Belvin on Etta James' 1955 hit "Good Rockin' Daddy."

The Blossoms circa 1957
(clockwise from top left) Fanita James, Gloria Jones, Annette Williams, Nenette Williams

It was through vocal coach Eddie Beale that the Dreamers were brought to their first major label, Capitol Records. One of the stipulations by Executive Tom Fransend was the renaming of the grpup. Fransend took a look at them, thought they looked like a bouqet of flowers, bcause of th they're skis were different shades of brown he decided to call them The Blossoms because they looked like blossoming flowers. Between 1957 and 1958 the group had three singles that didn't do much. However, they did have another backup hit with Ed Townsend on "For Your Love" in April 1958.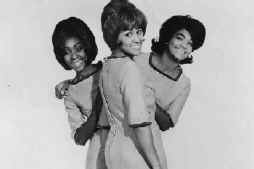 (L-R) Fanita James, Darlene Love, Gloria Jones
That year also brought a lineup change: Fanita James attended a wedding and heard a twenty-year old Darlene Wright sing. James then invited the gifted Wright to become the lead of the Blossoms. By 1960, the Williams twins had left and the group was now a trio.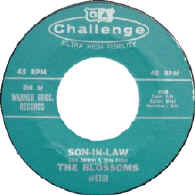 The Blossoms' first solo chart record was for the small Challenge label. The group just barely cracked the Billboard's top 100 with "Son-In- Law' (#79) in May 1961, but neither that nor immediate follow-ups were enough to make the public aware of them. Still, they kept earning a good living doing backup, as on Sam Cooke's hit "Everybody Love's to Cha-Cha-Cha" (#13, 1959) and as Duane Eddy's Rebelettes on "Dance with the Guitar Man" (#12, 1962).
In the summer of 1962, fate stepped in to make the Blossoms the ultimate unaccredited group of the '60s. Producer Phil Spector was in Los Angeles with newest discovery "He's a Rebel." Convinced that this was #1 hit, Spector was mortified to learn that the Crystals were reluctant to come to Los Angeles from Brooklyn because they were afraid of flying. Knowing that if he sat on the song someone else would certainly record it, Spector consulted with his Philles Record's partner Lester Sill who recommended the Blossoms. So on July 13 one of the classic rock and roll songs of the '60s was cut with the Blossoms and with vocalist Bobby Sheen singing high tenor. The Blossoms never imagined that "He's a Rebel" would be released under the name of the Crystals, nor did they guess that by November that it would be the #1 record in the U.S. and reach #19 in England.

Bobby Sheen and Darlene Love
A few weeks after the release of "He's a Rebel," Darlene Wright was signed by Spector, but she never knew whose named would be used on released records. For example, on August 24, they recorded a "wall of sound" version of the Disney classic "Zip-A-Dee-Doo-Dah," with Bobby Sheen singing lead and the Blossoms doing the backup. When it was released in November the label read Bob B. Soxx and the Blue Jeans.Though the Blossoms continued backing artists as diverse as Doris Day and Duane Eddy, their main claim to fame came from their Spector recordings from 1962-1964. They began in 1963 with "He's Sure the Buy I Love" (#11), which again was credited to the Crystals. In February it was back up the charts as Bob B. Soxx and the Blue Jeans with "Why Do Lover's Break Each Other's Heart?" (#38).
In April, "(Today I Met) the Boy I'm Going to Marry" was released and credited to the new name Spector had given Wright, Darlene Love.
When we went to record with Phil we never which record was going to be by who. After "He's a Rebel," the next thing he wanted was another record by the Crystals. i said that this time you're going to pay me a royalty, not just no $1500. But I didn't get it. Well the next record was :He's Sure the Boy I Love which was suposed to be my Darlene Love record - I was going to record it under my own name. But no. When I heard it on the radio, they announced it by the Crystals.
I asked for a contract again with Da Doo Ron Ron". Phil said OK, but I wasn't convinced and I never gave him a clean finish of the song so brought La La Broks in from the Crystals and put her voice on top of what I already had done. We didn't sign contracts in the end until after Da Doo Ron Ron".
Just as it had become predictable that Sheen or Wright would lead the Blossoms on Spector's new recordings, Darlene's lead was removed from what would be another Crystal classic. Lala Brooks, second lead of the Crystals, replaced Wright's lead vocal on "Da Doo Run Run" while all three Blossoms did their usual backup ( that's three Blossoms that included Wright, since they had already recorded the backup track. "Da Doo Run Run" went to #3 and became the Blossoms last unaccredited or credited top 10 record. They finished out the year with and another Bob B.Soxx and the Bluejeans song and three more Darlene Love singles.
The first was "Wait Until My Bobby Gets Home" reminiscent of the Angel's "My Boyfriends Back," and "A Fine, Fine Boy" (#53), which showed some nice vocal work.. However, by this time it was apparent that Spector was more interested in his new find, the Ronettes, than in developing his backup vocalists into stars, even though they had collectively had more hits than most groups at the time ( nine in one year for Philles Records alone). The fourth Darlene Love and the Blossoms single of 1963 was what might be the most exciting, emotion wrenching Christmas recording ever made " Christmas Baby Please Come Home." It included not only the Blossoms' vocals, but also the Ronettes, the Crystals and Cher. It could have been a number one record, but the assassination of John F. Kennedy put a shroud over anything that was not traditionally Christmas for that season.

The Blossoms on Shindig
In 1964, the Blossoms with Jeanie King, now in place of Gloria Jones, were introduced to producer Jack Goode by recording artist Jackie DeShannon. Goode brought the group to an audition for the television show Shindig, which led to two years as regulars on the show.. They issued one record under the name the Wildcats ("What Are You Gonna Do" in 1964), but it wasn't until 1966 that they recorded under their own name with "Good, Good Lovin'," written by Barry Mann and Cynthia Weil. They released several non-charting singles, while singing backup for Bobby Darin, Paul Anka, and Buck Owens.

The Blossoms with their 1965 Teen Screen magazine award
From 1967 through 1972, the Blossoms recorded ten records on various labels, most notably covers of the Righteous Brothers' hits "You've Lost that Lovin' Feeling" and "Soul and Inspiration" in 1969. In the early '70s the group toured with Elvis Presley. The Blossoms also toured with Tom Jones from the early70s through the mid-80s. Love left the group in the '80s, performing first in Las Vegas and then singing in Jeff Barry's soundtrack for the film The Idolmaker while doing backup work for Dionne Warwick in 1982. She did The Darlene Love Music Special on cable TV, performing old Crystals, Bob. B. Soxx, and Darlene Love songs backed by her sister Edna and Gloria Jones. In 1985 she appeared in Ellie Greenwich's musical The Leader of the Pack, for which a cast album was released. As the '80s ended, Love had a budding film career (Hairspray and Lethal Weapon) and a Columbia album was released in 1988.
In 1989, a Blossoms released a single under their own name for the first time in seventeen years when they recorded "Lonely Friday Night" for Classic Artists Records. The song was reminiscent of the Chiffons' "One Fine Day," but was even more reminiscent of the time the Blossoms were the premier West Coast hit vocal group that the public never knew.
Doris Kenner died in 2000 from breast cancer.
Jean King died from a heart attack in Las Vegas in 1983.