Phil Spector - The Producer

Over three decades since its heyday, Phil Spector's Wall of Sound still stands as a milestone in recording history. It changed the the course of pop record producing and produced some of rock's best loved music. Spector raised pop production's ambition and production by overdubbing scores of musicians to create a massive roar.
Wall of Sound - A thick layer of instrumentation (drums, guitar, bass, a horn section).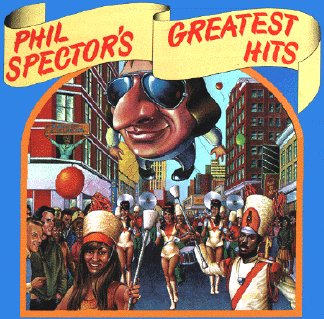 Artists produced
After the Teddy Bears broke up Spector enrolled at UCLA, and also worked part-time as a court stenographer. He later dropped out and moved back to New York, where he hoped to become at the U.N. interpreter in French. However, he soon returned to Los Angeles, where he decided to become involved again in the record business. He became acquainted with Jerry Leiber and Mike Stoller, a pair of songwriters and producers who were very successful by 1958 with the Robins/Coasters and written many songs recorded by top rock and roll acts. A quick learner, Spector decided to record a song he had written. The result was "To Know Is To Love Him" by the Teddy Bears, a group made up of Spector and two friends. "To Know Him Is To Love Him" became a number one best seller in the fall of 1958.
Spector decided that he liked the production more than the performing part of the business. In fact his stage fright was so great that he became physically ill before each Teddy Bear show.
Spector than approached independent record producers Lester Sill and Lee Hazlewood and persuaded them to teach him the business. Sill was a successful record promoter/producer/label owner who was currently working with Duane Eddy. Spector moved into Sill's home sharing a room with his son. Often he went with Sill to Phoenix where Eddy's sessions were produced at Hazlewood's Ramco Audio Studios. Now knowing how successful rock and roll records were made, Spector's job now was to come up with new talent. The first sessions produced a few usable songs by the Spector's Three, a studio group put together just for this session. They were released on Sill's Trey label and weren't successful.
His initial recordings followed the foundations set by the Teddy Bears: keep it simple, keep it catchy. His first session outside his own circle was with Greg Connors, of which virtually nothing is known today. Next was Kell Osborne who also remains obscure.

Lee Hazlewood, Duane Eddy, and Lester Sill
It was at this time in 1960, Sill and Hazlewood sent Spector to New York, where he worked with Jerry Leiber and Mike Stoller at 40 West 57th Street. Within a week, he had been introduced around the offices of Hill & Range Publishers, who published Leiber-Stoller songs. After a summer of session work, Hill & Range took Spector on as a songwriter-producer-recording engineer in October. His first client was Ray Peterson. Peterson who had a huge hit with "Tell Laura I Love Her" had just left RCA Victor, and his manager immediately started Dune Records and was looking for a producer. He became a staff producer for Dune Records and produced and the end result was "Corrine, Corina" that was almost as big a hit as "Tell Laura I Love Her."
In October, he worked with Leiber co-writing and producing "Spanish Harlem," a massive hit for Ben E. King. In the next few months he worked with Johnny Nash. Next were the Paris Sister's with "Be My Boy" which spent five weeks in the upper Top 100.
Paris Sisters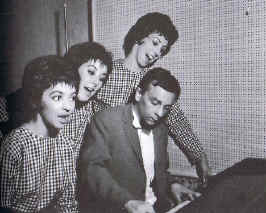 L to R: Priscila, Albeth and Sherrill with Spector
By this time he was also a freelance producer and A&R for Atlantic Records as well as an independent producer. He produced Gene Pitney's "Every Breathe I Take," Curtis Lee's "Pretty Little Angel Eyes," and the Paris Sisters "I Love How You Love Me".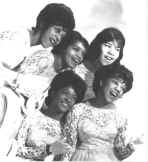 In late 1961, Spector returned to New York and with Lester Sill formed Philles Records. The first group that he recorded was the Crystals that had a hit in early 1962 with "There's No Other (Like My Baby)," followed by "Uptown." Next came "He Hit Me (and It Felt Like a Kiss)," which was banned in some markets because of its lyrics and the million selling "He's a Rebel."

Hal Blaine in 1964
Spector was a millionaire at the age of twenty-one. He now began recording on the West Coast, where he developed his Wall of Sound in earnest, using session men as guitarists Glen Campbell, Sonny Bono, and Barney Kessel, pianist Leon Russell, and drummer Hal Blaine. Within three years Spector had twenty consecutive hits, including the Crystal's "Da Doo Ron Ron," "Then He Kissed Me," and "He's Sure the Boy I Love"; the Ronettes' "Be My Baby," "Baby I Love You," (The Best Part of) Breakin' Up," and "Walking in the Rain"; Darlene Love's "(Today I Met) the Boy I'm Gonna Marry" and "Wait 'til My Bobby Gets Home"; and Bob B. Soxx and the Blue Jeans' Zip-a-Dee Doo-Dah." In 1963 Spector made a Christmas album, featuring Darlene Love's "Christmas (Baby Please Some Home)" and the Crystals' "Santa Claus is Coming to Town." In 1964 Tom Wolfe profiled Spector dubbing him "the first tycoon of teen."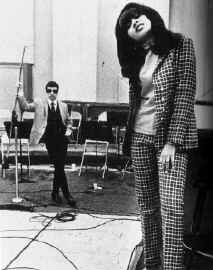 Phil and Ronnie Spector
Phil Spector and Philles Records continued to have hits through 1964, the year of the British invasion. By this time Spector had become obsessed with Ronnie Bennett and by 1965 Ronette singles were now being credited to the Ronettes featuring Veronica Bennett. He even started Phil Spector Records which only issued Veronica singles, but by this time even he could not stand up to the British onslaught. He started Annette Records, named for his wife, and discovered Cher, calling her Bonnie Jo Mason on her first Annette single. However no matter what he did nothing succeeded.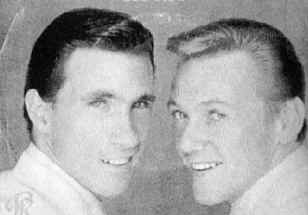 Righteous Brothers
Bill Medley and Bobby Hatfield
Next he took on the white, blue-eyed, soul singing Righteous Brothers and produced "You Lost That Lovin' Feeling." This got him through 1965.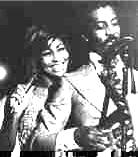 As the Righteous Brothers popularity waned he took a genuine soul act, Ike and Tina Turner Revue. Pairing them with his Wall of Sound, "River Deep, Mountain High" that was to be a glimpse into the future of rock and roll music. Instead it was a miserable failure.
Devastated, Spector turned his back on the music industry and became a virtual recluse. In 1968, he married Ronnie Bennett and made a brief attempt at producing for another label in 1969 with Sonny Charles and the Checkmates, Ltd's "Love Is All I Have To Give," "Black Pearl" and a re-make of "Proud Mary."
He worked with the Beatles and John Lennon, but the magic was no longer there. In 1969, he had a brief cameo as a drug dealer in Easy Rider. His time had passed, and time itself had passed him by. Spector was almost thirty.
Phil Spector's "Wall of Sound"
FastCounter by LinkExchange