Phil Spector - The Producer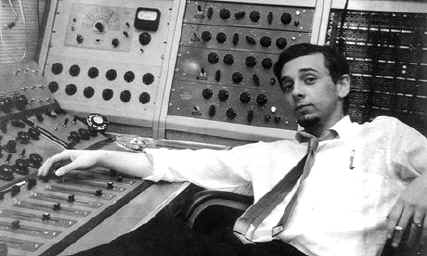 Wall of Sound - A thick layer of instrumentation (drums, guitar, bass, a horn section).
Over three decades since its heyday, Phil Spector's Wall of Sound still stands as a milestone in recording history. It changed the the course of pop record producing and produced some of rock's best loved music. Spector raised pop production's ambition and production by overdubbing scores of musicians to create a massive roar.
.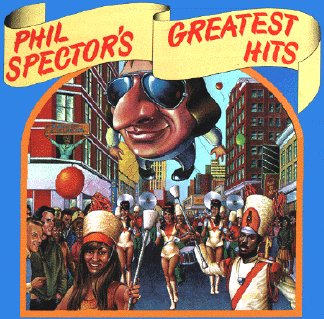 Artists pictured
Balloon: Phil Spector
Left front: Tina Turner. Back of Turner are Righteous Brothers. Behind Righteous Brothers Bob B. Sox and the Blue Jeans.
In window: Darlene Love. Majorettes: Ronettes. Right front: Ike Turner. Behind Turner: Tthe Crystals
Artists produced
After the Teddy Bears broke up Spector enrolled at UCLA, and also worked part-time as a court stenographer. He later dropped out and moved back to New York, where he hoped to become at the U.N. interpreter in French. However, he soon returned to Los Angeles, where he decided to become involved again in the record business. He became acquainted with Jerry Leiber and Mike Stoller, a pair of songwriters and producers who were very successful by 1958 with the Robins/Coasters and written many songs recorded by top rock and roll acts. A quick learner, Spector decided to record a song he had written. The result was "To Know Is To Love Him" by the Teddy Bears, a group made up of Spector and two friends. "To Know Him Is To Love Him" became a number one best seller in the fall of 1958.
Spector decided that he liked the production more than the performing part of the business. In fact his stage fright was so great that he became physically ill before each Teddy Bear show.
Spector than approached independent record producers Lester Sill and Lee Hazlewood and persuaded them to teach him the business. Sill was a successful record promoter/producer/label owner who was currently working with Duane Eddy. Spector moved into Sill's home sharing a room with his son. Often he went with Sill to Phoenix where Eddy's sessions were produced at Hazlewood's Ramco Audio Studios. Now knowing how successful rock and roll records were made, Spector's job now was to come up with new talent. The first sessions produced a few usable songs by the Spector's Three, a studio group put together just for this session. They were released on Sill's Trey label and weren't successful.
His initial recordings followed the foundations set by the Teddy Bears: keep it simple, keep it catchy. His first session outside his own circle was with Greg Connors, of which virtually nothing is known today. Next was Kell Osborne who also remains obscure.

Lee Hazlewood, Duane Eddy, and Lester Sill
It was at this time in 1960, Sill and Hazlewood sent Spector to New York, where he worked with Jerry Leiber and Mike Stoller at 40 West 57th Street. Within a week, he had been introduced around the offices of Hill & Range Publishers, who published Leiber-Stoller songs. After a summer of session work, Hill & Range took Spector on as a songwriter-producer-recording engineer in October. His first client was Ray Peterson. Peterson who had a huge hit with "Tell Laura I Love Her" had just left RCA Victor, and his manager immediately started Dune Records and was looking for a producer. He became a staff producer for Dune Records and produced and the end result was "Corrine, Corina" that was almost as big a hit as "Tell Laura I Love Her."
In October, he worked with Leiber co-writing and producing "Spanish Harlem," a massive hit for Ben E. King. In the next few months he worked with Johnny Nash. Next were the Paris Sister's with "Be My Boy" which spent five weeks in the upper Top 100.
Paris Sisters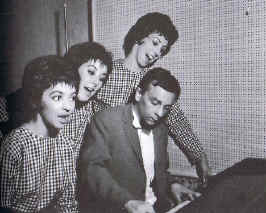 L to R: Priscila, Albeth and Sherrill with Spector
By this time he was also a freelance producer and A&R for Atlantic Records as well as an independent producer. He produced Gene Pitney's "Every Breathe I Take," Curtis Lee's "Pretty Little Angel Eyes," and the Paris Sisters "I Love How You Love Me".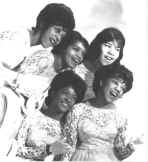 In late 1961, Spector returned to New York and with Lester Sill formed Philles Records. The first group that he recorded was the Crystals that had a hit in early 1962 with "There's No Other (Like My Baby)," followed by "Uptown." Next came "He Hit Me (and It Felt Like a Kiss)," which was banned in some markets because of its lyrics and the million selling "He's a Rebel."

Hal Blaine in 1964
Spector was a millionaire at the age of twenty-one. He now began recording on the West Coast, where he developed his Wall of Sound in earnest, using session men as guitarists Glen Campbell, Sonny Bono, and Barney Kessel, pianist Leon Russell, and drummer Hal Blaine. Within three years Spector had twenty consecutive hits, including the Crystal's "Da Doo Ron Ron," "Then He Kissed Me," and "He's Sure the Boy I Love"; the Ronettes' "Be My Baby," "Baby I Love You," (The Best Part of) Breakin' Up," and "Walking in the Rain"; Darlene Love's "(Today I Met) the Boy I'm Gonna Marry" and "Wait 'til My Bobby Gets Home"; and Bob B. Soxx and the Blue Jeans' Zip-a-Dee Doo-Dah." In 1963 Spector made a Christmas album, featuring Darlene Love's "Christmas (Baby Please Some Home)" and the Crystals' "Santa Claus is Coming to Town." In 1964 Tom Wolfe profiled Spector dubbing him "the first tycoon of teen."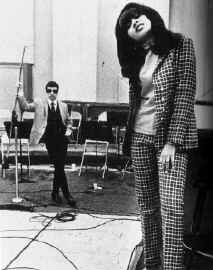 Phil and Ronnie Spector
Phil Spector and Philles Records continued to have hits through 1964, the year of the British invasion. By this time Spector had become obsessed with Ronnie Bennett and by 1965 Ronette singles were now being credited to the Ronettes featuring Veronica Bennett. He even started Phil Spector Records which only issued Veronica singles, but by this time even he could not stand up to the British onslaught. He started Annette Records, named for his wife, and discovered Cher, calling her Bonnie Jo Mason on her first Annette single. However no matter what he did nothing succeeded.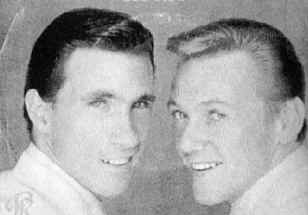 Righteous Brothers
Bill Medley and Bobby Hatfield
Next he took on the white, blue-eyed, soul singing Righteous Brothers and produced "You Lost That Lovin' Feeling." This got him through 1965.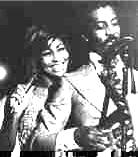 As the Righteous Brothers popularity waned he took a genuine soul act, Ike and Tina Turner Revue. Pairing them with his Wall of Sound, "River Deep, Mountain High" that was to be a glimpse into the future of rock and roll music. Instead it was a miserable failure.
Checkmates, LTD.

l-r: Bobby Stevens, Harvey Trees, Sonny Charles, Marvin Smith, Bill Van Buskirk
Devastated, Spector turned his back on the music industry and became a virtual recluse. In 1968, he married Ronnie Bennett and made a brief attempt at producing for another label in 1969 with Sonny Charles and the Checkmates, Ltd's "Love Is All I Have To Give," "Black Pearl" and a re-make of "Proud Mary."
In 1969, he had a brief cameo as a drug dealer in Easy Rider.
As the 1970s progressed, Spector became increasingly reclusive. The most probable and significant reason for his withdrawal, was that in 1974 he was seriously injured when he was thrown through the windshield of his car in a crash in Hollywood where Spector was almost killed, and it was only because the attending police officer detected a faint pulse that Spector was not declared dead at the scene. He was admitted to the UCLA Medical Center on the night of March 31, suffering serious head injuries that required several hours of surgery, with over 300 stitches to his face and more than 400 to the back of his head.[90] His head injuries, Thompson suggests, were the reason that Spector began his habit of wearing outlandish wigs in later years.
In early 1970, Allen Klein, brought Spector to England. After impressing with his production of John Lennon's solo single "Instant Karma"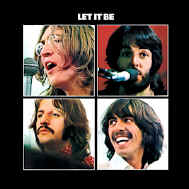 Spector was asked by John Lennon and George Harrison to turn the Beatles Let It Be recording sessions into an album. Spector went to work making significant changes to arrangements and sound of some songs and was released a month after the Beatles' break-up. The album topped the U.S. and UK charts. It also yielded the number #1 U.S. single "The Long and Winding Road".
| | | | | |
| --- | --- | --- | --- | --- |
| | | | | |
In 1970, Spector helped with George Harrison's multiplatinum album All Things Must Pass and co-produced John Lennon's Plastic Ono Band. In 1971 Spector was made head of Artist & Reportoire for Apple Records but only held the post for a year. During this time he co-produced Lennon's 1971 single "Power to the People" and his chart-topping album Imagine. He also coproduced with Harrison "Bangla Desh" —rock's first charity single. Spector also over saw the live recording of the Harrison-organized Concert for Bangladesh shows in New York City, which resulted in the number #1 triple album The Concert for Bangladesh.] The album won the "Album of the Year" award at the 1973 Grammys.
Spector began to reemerge later in the decade, producing and co-writing a controversial 1977 album by Leonard Cohen, titled Death of a Ladies' Man.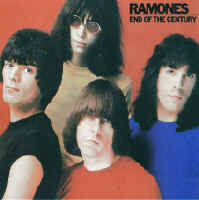 Spector produced the Ramones album End of the Century in 1979. Critized by Ramone fans for radio-friendly sound it contained some of the best known and most successful Ramones singles, such as "Rock 'n' Roll High School", "Do You Remember Rock 'n' Roll Radio?", and their cover of a previously released Spector song for the Ronettes, "Baby, I Love You".
Spector remained inactive throughout most of the 1980s, 1990s, and early 2000s. In early 1981, shortly after the death of John Lennon, he temporarily re-emerged to co-produce Yoko Ono's Season of Glass.
He attempted to work with Celine Dion on her album Falling into You but fell out with the production team
His last release was Silence is Easy by Starsailor, in 2003.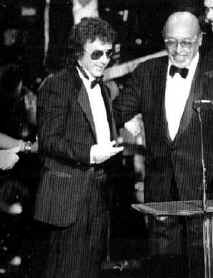 Phil Spector at his induction to the Rock and Roll Hall of Fame
In 1989, Tina Turner inducted Spector into the Rock and Roll Hall of Fame as a non-performer and the Songwriters Hall of Fame in 1997 and he received the Grammy Trustees Award in 2000.
| | | |
| --- | --- | --- |
| Alahanbra mansion | Lana Clarkson | Spector in court, 2005 |
In February 3, 2003, Spector shot actress Lana Clarkson in the mouth while in his mansion in Alhambra, California. Her body was found slumped in a chair with a single gunshot wound to her mouth.

In July 2003 Spector told Esquire that Clarkson's death was an "accidental suicide" and that she "kissed the gun".] The emergency call from Spector's home, made by Spector's driver, Adriano de Souza, quotes Spector as saying, "I think I killed somebody."[De Souza added that he saw Spector come out of the back door of the house with a gun in his hand. Spector remained free on $1 million bail while awaiting trial.

On March 19, 2007, Spector's murder trial began. Presiding Judge Larry Paul Fidler allowed the proceedings in Los Angeles Superior Court to be televised.

On September 26, Fidler declared a mistrial because of a hung jury (ten to two for conviction).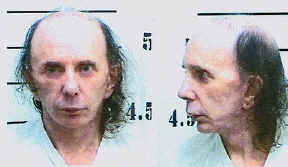 Spector's retrail began on October 20, 2008. with the case went to the jury March 26, 2009. On April April 13, 2009 the jury returning with a guilty verdict and on May 29, 2009 was given a 19 year to life sentence, Various appeals were all unsuccessful.

California Department of Corrections photos from 2013 (released in September 2014) show evidence of a progressive deterioration in Spector's health, according to observers. He had been an inmate at the California Health Care Facility (a prison hospital) in Stockton since October 20. In September 2014, it was reported that Spector had lost his ability to speak, owing to laryngeal papillomatosis. He was taken to San Joaquin General Hospital in French Camp, California, on December 31, and intubated in January 2021. Spector died in an outside hospital on January 16 at the age of 81, according to the California Department of Corrections and Rehabilitation. It is believed he died due complications of COVID-19, with which he was diagnosed in December 2020.

Phil Spector was inducted into the Rock and Roll Hall of Fame in 1989