The Doo-Wop Groups

Frankie Lymon and the Teenagers

The Platters
The Platters and Frankie Lymon and the Teenagers pop success set them apart from most of the groups of the era. Few of the doo-wop groups made the charts or were heard on radio. Fewer still were those groups that were able to have careers greater then a single hit.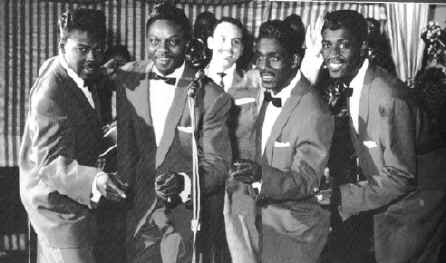 L to R: Curtis Williams, Cleve Duncan, Dexter Tisby, Bruce Tate
The Penguins "Earth Angel" a teenage anthem.
Members:
Cleveland Duncan - lead
Dexter Tisby - second tenor
Curtis Williams - replaced by Randy Jone
Bruce Tate - replaced by Teddy Harper
The Penguins "Earth Angel" was the first "pure" doo-wop record. "Earth Angel" blended pop's melodicism and lyrical innocence with the emotional directness of gospel and R&B. A classic "ballad with a beat," the song is sung over a swaying piano triplets with sparse instrumental backing. The yearning lead vocal and ragged background voices created an amateurish" sound in the best sense.
The simple lyrics ("Earth Angel, will you be mine...") have an innocence that the untrained voices and the "garage" sound only served to heighten. "Earth Angel" was literally recorded in the garage of Dootsie Williams, owner of Dootsie Records. The Penguins sound like what they were: a group of high school students singing a song for one of their girlfriends. The message of "Earth Angel" was "That it could be me," by aspiring young singers who couldn't imagine singing like The Ink Spots or leading a jump band like Louis Jordan, but could imagine writing or singing a song like "Earth Angel." 1
Its been said that there were 15,000 Doo Wop groups that recorded at least one record. While that might been an exaggeration certainly a few thousand that did. Hundreds of those had hits, but were found a second one to be elusive. Many would spend a few years trying. The same qualities that made them initially successful would doom them. Youth and inexperience caused them to make bad business decisions. As they married and started families came responsibility and they no longer could chase their dreams.
Below is a list of the some of the Doo Wop groups, many one hit wonders.
Marv Goldberg's - Vocal Groups page
1 Gass History of Rock Music: The Rock and Roll Era (McGraw-Hill, 1994) p 152